Stern brothers motivate each other to perform better on soccer field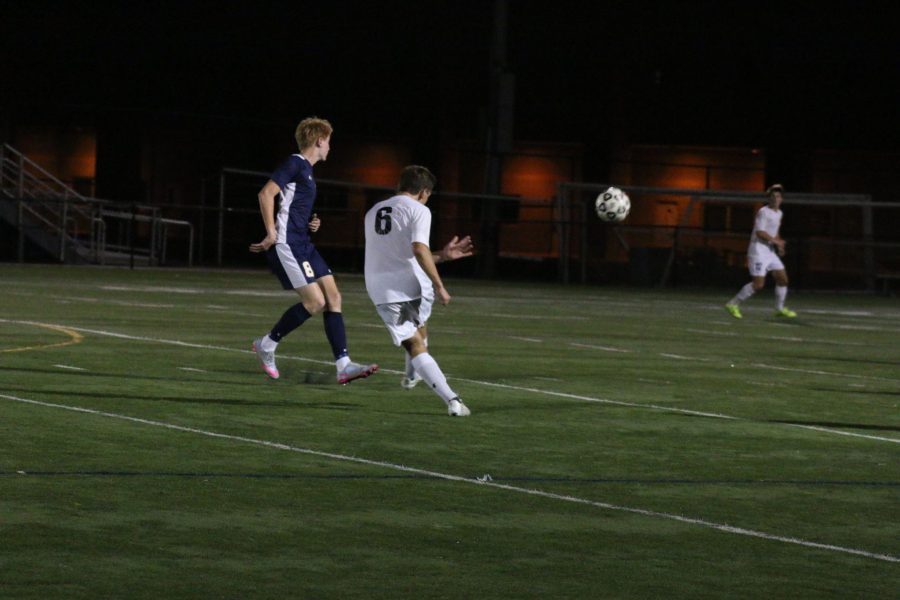 Sindhu Iyer
October 12, 2015
Twins David and Drew Stern started playing soccer at a very young age. They are currently seniors on the RM Boys Varsity Soccer Team, and have kept their enthusiasm and interest in the sport alive for years. Despite their dedication to soccer, it was not all smiles and cheers when they first started playing. "We were like five, and David joined a [recreational] team. I refused to join, but would come to his practices anyway and dribble around off in the corner alone. And eventually I joined a team too," says Drew, who has scored a goal and accomplished two assists this year.
Over the years, the Stern brothers have played soccer as both teammates and opponents.  "Drew and I have a great connection on the field in that we're usually on the same page, be it offensively or defensively," says David, who has received the Rocket award for his contributions to the team. But like with most siblings, David and Drew feel the need to play their hardest when playing against each other. "Most of the time we play against each other it's just one on one or in practice; we definitely play harder since we hate losing to each other," says Drew. The brothers even joke that when they play one on one, "half the time the loser punches the winner in the face."
Despite their natural competitiveness, the brothers share many of their interests outside of school. Both brothers play the piano, enjoy skiing and sailing, and are huge fans of the New England Patriots. They are also very supportive and encouraging of each other both on and off the field.
David and Drew can also be very critical of each other at times, since they have high expectations of one another. "We yell at each other a ton because we have high standards and expect perfection. Since I have no filter when talking to David, I say things I would never dare to say to other teammates," says Drew.  He even fears these "things" he says to David during games will get him carded eventually. Similarly David feels as if he is censorious of his brother for the slightest mistakes, but might "forgive a much bigger error from another player."
Both in practice and during games, the brothers find each other a source of motivation. David is generally determined to play his best whether Drew is on or off the field, but finds it helpful to have his brother motivating him when he is not playing his best. Similarly, Drew says that they have an "inherent inclination to play at a higher level" because they push each other to win. The RM Boys Varsity Soccer team has played against many tough opponents this year, BCC being one of the most difficult. The team struggled at first since they were missing a few key players, but managed to pull it together and win the game.
The Stern brothers agree that playing a sport can become a major time commitment, but they've learned to find balance between their grades and their dedication to soccer. Playing with each other on the RM team since freshman year has taught them that the team always comes before the individual.
Photos by Fatma Elsayed