Poms captains lead on and off the field
Many RM students will only ever see the Poms team during football games and pep rallies for their short performances. As a result, a massive bulk of their work, especially from the team's four captains, is often overlooked. "People just watch us perform, but there's a lot more work that goes into it than people think that there is, especially for competition season," senior co- captain Lillian Matthews said. "I feel like that's when we're most recognized."
Likewise, senior co-captain Brianna Lacey said, "I think a lot of people just don't know what we do every day."
Whereas most sports teams are primarily led by the coaches, the Poms team is largely run by its captains. This year, seniors Matthews, Lacey, Brigitta Agung and Lucy Cole hold those positions.
"Poms is very student-run, so our coach rarely steps in. She'll step in when there are issues we're having, when we have questions, but ultimately we choreograph everything, we run practices and we're kind of just in charge of most of the things we do," Agung said.
A major portion of the captains' job is choreographing the team's routines. "We have practice [from] 4:30 to 6:30," Agung said. "Right after school we start choreographing, so it'd be 2:30 to 4:30 we're choreographing and that's almost every day, or we're planning what we have to do for practice."
Weekends are also busy for the Poms captains. "On the weekends we'll choreograph maybe for a few hours, and then have all of our competitions," Cole added.
With choreography, teaching routines to the team and correcting technique, having four captains is necessary to handle all of the work. Luckily, the four seniors have no trouble working together.
"Normally we all just get together at someone's house or we've been going to a park recently, and we just kind of listen to the music, and bounce ideas off each other, and we've been on the team together for a while so we all get along pretty well, because we're all good friends," Matthews said. "I'm head captain, and then Lucy, Brianna, Lilly are my co- captains. Basically the way we split up work is we all work together," Agung said, "but ultimately if we can't agree on something I get the final say in whatever it is."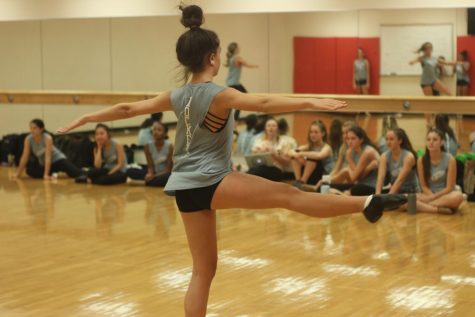 Another obligation of the Poms captains is to choreograph the fan-favorite dance routines performed by the Boms squad, which can prove to be difficult in its own ways.
"It's also harder to get them to pay attention, and figure out how to explain it to them in a way that they would understand, doing kicks and things like that," Matthews said. "It's easy for the Poms because they already know
how to do it, but you have to break down simpler things [for Boms]."
Despite these difficulties, the creation of the Boms routine is still enjoyable and very low-pressure. "We use simple choreography for the Boms, and there are no technical dance moves in it. They're just dancing for fun, so it's a lot easier," Lacey said.
"It doesn't really matter how well the boys know it, they kind of just watch each other," Cole said. "We can't really do that for us; every little nit-pick thing has to be correct."
Although their jobs require lots of work, the captains still love the work that they do for the team. "They're just a really great group of girls and they work really hard and they all really love what they do." Matthews said.