Soccer captain Sahakyan driving force behind team's victories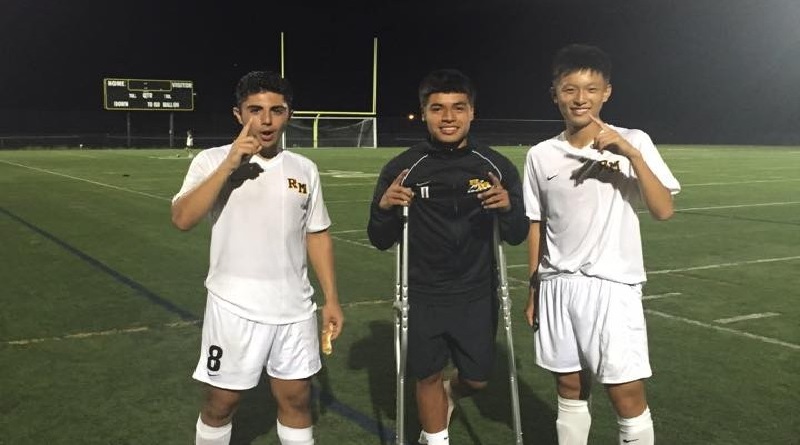 Aneeta Ashton
October 9, 2015
Aram Sahakyan, captain of the Richard Montgomery varsity soccer team, is leading his teammates to a good start this season, having won five of the last nine games.
A midfielder who has been a driving force behind the Rockets, Sahakyan has scored five goals in six games.
Sahakyan, a senior, loves playing soccer whenever he has free time. Starting the sport at an early age, his first memories are of himself with a soccer ball at his feet. Sahakyan credits the famous Brazilian soccer player Ronaldinho, who played for the Brazilian National Team and the Spanish club F.C Barcelona from 2003 to 2008, as his biggest inspiration. "He always managed to play with a smile, even if the game was bad," Sahakyan said.
Although he has been playing for four years, Sahakyan still gets anxious at the beginning of every game. "I get nervous in the beginning, which is normal," he said, "but as the game goes on, I become more comfortable and confident in my abilities."
Like every other soccer player, Sahakyan has both strengths and weaknesses. He's a leader on and off the field," said teammate Will Diaz, "He likes to motivate us every game and even in practice so we can become better." Sahakyan said his biggest weakness is that "I tend to put my head down when I start playing bad." He hopes to change this and be more like Ronaldinho, who keeps smiling even if he makes a bad play or if the team is losing.
Sophomore varsity soccer player Andrew Lakanu praised Sahakyan's abilities, stating that "Aram is a great captain and a great person to play with." Lakuna described Sahakyan as a captain who demands a lot from his teammates and a person who gives 100 percent effort at each and every game. "Sahakyan may yell too loudly when calling out to teammates during a game, but he always gives the team a much-needed goal," Lakuna added, "no one can deny his commitment and love for the game."
As captain, Sahakyan has a responsibility not just for himself and for his team, as he described them as a very close-knit family. "People may see us as bickering and arguing, but don't get the wrong impression," said Sahakyan. "No one person on the team is better than the other and everyone is a role model, everyone can learn from each other and build off of each other."
As of now, the biggest improvement Sahakyan said the team needs is communication, stating,"We don't always communicate very well, and that can sometimes be seen in our performance."
With a 5-4 record under the team's belt, Sahakyan said he has high hopes looking ahead to the rest of the season. "I hope we remain undefeated for the remainder of the season," this point onward. But more importantly he adds, "I hope varsity soccer remains a strong and united team."