Girls volleyball celebrates 3-0 win against Gaithersburg on Senior Night
During the 2019 Girls Varsity Volleyball senior night, dozens of friends and family of players filled the stands. Balloons, streamers and posters lined the gym. The yearly celebration of the senior athletes was under way.
After flowers were handed out and photos were taken, senior Kisha Yan's serve started the Girls Volleyball Team's Senior Night game against the Gaithersburg Trojans.  
The collective experience of all the seniors on the court showed, and RM took an early 5-2 lead after an ace (a serve the opposing team cannot pass back) by senior co-captain Gabri Puertas and a spike by senior co-captain Laila Rogers. 
Rogers then scored on a serve and Yan added a strong hit to widen the lead to 11-5. Gaithersburg attempted to get back into the game and rallied for four consecutive points, a streak that was interrupted by a perfectly placed set over the net by Rogers. Gaithersburg managed to score another four points, tying the game at 13, and then took a one-point lead.
However, after three straight aces from Puertas and another unstoppable set-hit combination from senior co-captain Carissa Lin and Rogers, putting the score to 19-16, the Rockets once again took the lead. 
As the first set came to a close, an overpass set up a score by senior Jennifer Li, and a Gaithersburg missed serve coupled with a spike by Yan won the set for RM, 25-21.
The Rockets jumped out to an early lead again to start the next set, after three unforced errors by the Trojans. While Gaithersburg did well to try and keep the score close, three perfect sets by Lin to Rogers and Yan paired with aces from Rogers and senior Joy Wang gave RM a significant 9-5 lead. 
Despite two key blocks and a hit by senior Sophia Taur, Gaithersburg found a way to force errors and took a four-point lead, causing an 11-15 score and the first timeout of the game by RM. 
After regrouping, a block by Taur and a hit by Rogers off of a quick set by Lin narrowed the gap in the score to two points. This surge ended as soon as it had begun, after a bizarre recovery and score by the Trojans when a powerful hit by Rogers rebounded off of a blocker's face and the ceiling. 
The Trojans then widened the lead to 16-21, warranting another timeout call by coach Gretchen Barber-Strunk. 
A five-point deficit this late in the set seemed impossible to overcome, but three spikes by Rogers and two aces by Puertas and junior Calie Dunn tied the game at 22 after an impressive rally, forcing a Gaithersburg timeout. 
The Trojans improved their strategy, and a tip off of a blocker and an ace put the game within one point of winning for them. But they made an error of their own, passing the ball out of bounds, and a block by Rogers put 24-24 on the scoreboard. 
After another Gaithersburg timeout, the teams traded errors, keeping the scores within one point of each other, raising the score to 28-27. The Rockets then finally completed their comeback with an ace by Lin to win the set.
With two sets won, RM only needed one more to win the whole game. They started off strong, with an ace by senior Evelyn Li, and a key double block by Lin and Taur, which led to a spike by Rogers. Rogers then had three aces, and Yan had a solid hit to take a comfortable lead of 8-4. 
This lead continued to grow, helped by errors made by the Trojans. A missed serve, a double hit penalty, and two missed spikes increased Gaithersburg's deficit to 12-7. Gaithersburg then called a timeout, but not before Puertas completed two aces. 
Puertas managed to serve another ace quickly after the timeout. The set and the game were close to out of reach for the Trojans, and their chances weren't helped by two spikes and an ace from Rogers, in addition to a hit from Jennifer Li.
The Trojans had one more chance to mount a comeback, and they tried, rallying for four points to keep the score as close as they could, at 22-16.
After a well-timed set by Lin and a perfectly aimed hit by Taur, an ace by Jennifer Li, and another solid block by Taur, the Rockets completed their third set, and won the game.
Not only did this victory carry the usual significance after a regular season win, but it had extra meaning for the seniors that felt the love and appreciation that RM has for its senior athletes.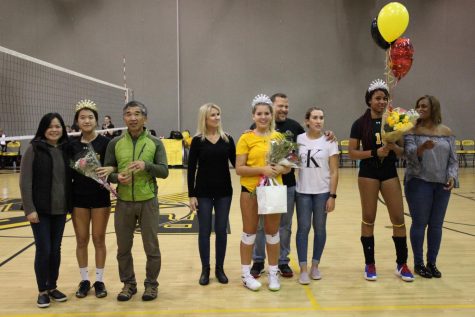 "I think senior night is important because it celebrates the hard work that the girls put into the program," coach Barber-Strunk said. "It's something they deserve, it's recognition from the school, and their friends and families, and it's fun for them."
Not only does the game acknowledge the past commitment and accomplishments of the seniors, but it also serves as a symbolic rite of passage as the players move on from RM athletics. 
"Next year's gonna be really hard to rebuild without them, and they each know individually that I'll miss them and the reasons why, but what they bring to the court is everything," Barber-Strunk said.
Leave a Comment