RM boys soccer defeats Paint Branch on senior night
The Richard Montgomery Boys Varsity soccer team's regular season ended Thursday October 17th as the Rockets defeated Paint Branch High School with a comfortable 3-0 victory.
Senior Javier (Danny) Romero scored the first of three goals, followed by a goal from junior Arsenio Paiz and senior Agustin Diaz. All three goals were said to be in honor of the seniors' last game and a "toast" to their contributions over the last four years
The class of 2020 made up a big portion of the squad, and the 12 seniors: Abdullah Al-Jirafi, Bryan Ramos, Javier Romero, Agustin Diaz, Matteo Quartararo, Jayden Da, Dylan Lee, Zayus Clark, Jorge Mendoza, Ashton Dunn, Christian Beltran and Christian Rivera were all recognized and honored with a pre-game ceremony.
RM's scored a single goal early in the first half, and the first half ended 1-0, as shots on target were rare from both sides. Richard Montgomery came in hungry for more goals in the second half. The hunger proved too much for Paint Branch's defensive line as two more goals were scored by senior Agustin Diaz and junior Arsenio Paiz.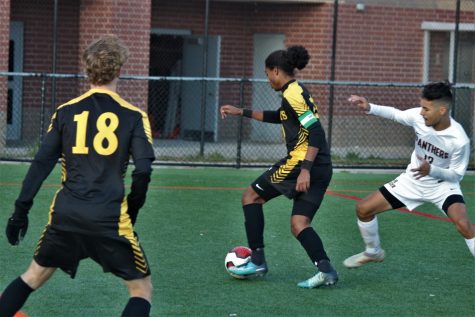 Thursday night's game proved to be an emotional one for the 12 seniors as they said their good-byes. As a direct result of this 3-0 victory, the Rockets will go onto the play-offs with a record of 5-5-2.
To the departing seniors, soccer is much more than a game, and the RM community thanks the 12 seniors who have given much to the athletics program.