School President Zack Khan plans for busy year ahead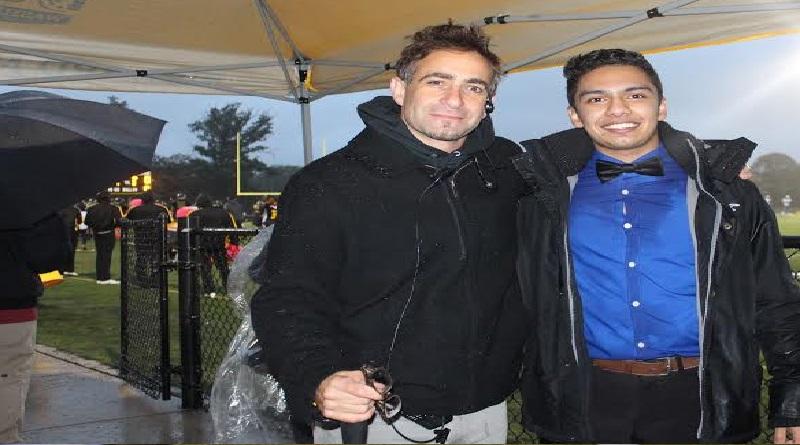 Irene Park
October 8, 2015
Confident. Organized. Easy to work with. Fun. These are all qualities you would look for in a leader. They are also qualities you can find in schoolwide Student Government Association president Zack Khan, according to fellow student government member and sophomore class vice president Grace Wu.
Khan has been a member of Richard Montgomery High School's SGA since his freshman year when he served as a first period delegate. But it was not until his junior year that he gained an official position as a class officer, after being elected president of the class of 2016. This year, he will conclude his high school career as the school-wide president.
"So far, it's been really fun," Khan reflected. "But a little crazy; as you can see, I'm running around everywhere. […] Because as schoolwide president, you're involved with everything SGA. As your title, you get involved in every little thing."
After just one month, Khan feels as if he has already been at school for years. Though there is plenty that has already been done, he labels Senior Unity Day as his biggest accomplishment so far. "That was a new thing and we had over 300 people attend, which is really unprecedented for an SGA event," he said.
However, what Khan valued more than the strong participation was the feedback he received. "I've heard some people say it was their best high school experience yet, and that made me feel really good," he explained. "It's stuff like that that makes it really rewarding–when you put a lot of effort into something and then someone says they enjoyed it, it makes it really worthwhile."
Khan acknowledges the challenges he has faced and will face down the road when organizing activities intended to bring fun and unity to the 2,000+ RM students. The biggest, he said, "has been getting people excited about things. It takes time. It's definitely not easy making people want to [participate]."
As for the future, Khan's agenda directs much attention towards reuniting the various cliques and divisions that have developed at RM. With the IB, MYP, AP, honors, and on-level programs, there are far more chances for separations to naturally occur. Khan hopes that he can reverse this, and rather than identifying someone as "IB" or "non-IB," bring the school together as nothing more or less than simply "RM."
He also hopes to bring back the Battle of the Classes, a series of class spirit competitions that unfortunately left RM a while ago. Not only would the reintroduction of a class war be an opportunity for all students in one grade to collaborate, but it would also be a great chance for inter-grade interactions. Khan vividly described a Macy's Thanksgiving Parade scenario, complete with music, dodgeball tournaments, and even spirit floats.
"It's stuff like that I want to bring back," Khan said. "Things that get people excited about school, so they know that school's not just this place where you have to take tests and whatnot. People can have fun and get involved in the school. I'm all about new ideas."