InteGIRLS hosts its first annual math competition
On Saturday, May 18, a group of 10 high school girls from RM, Blair, Thomas Jefferson and Wootton High School hosted the first ever InteGIRLS math competition at the Montgomery College Rockville campus. The all-girls competition drew around 135 middle and high school participants from all around the DMV region, who came together to engage in fun math activities.
The competition began with registration at 9:30 and was followed by the team round, where the girls worked on a problem set in teams of three. The girls either competed with their registered team or with an assigned team if they registered alone. After a short break, they began the individual rounds, which consisted of three topics: algebra and number theory, geometry, and combinatorics.
After taking these three tests, the girls ate lunch, participated in various math-related activities, such as a estimathon, and listened to guest speakers like Maryland State Delegate Lily Qi, Montgomery County Executive Marc Elrich, and District 15 Delegate Kathleen Dumais.
All of the participants received prizes and goodies such as scrunchies and InteGIRLS bags, which were mostly provided by the competition sponsors. The competition organizers wanted to award every girl for participating in the competition and challenging themselves. "We're trying to foster a love of math in all the girls, instead of merely awarding those who win or are good at it," RM junior and InteGIRLS co-founder Laura Yao said.
This sentiment reminded the founders of their previous experiences as girls in STEM. "It would have been something that I would have wanted as a middle schooler," Yao said.
"
We're trying to foster a love of math in all the girls, instead of merely awarding those who win or are good at it."
— Laura Yao
According to Wtop, the founders of InteGIRLS drew inspiration for the competition from west coast all-girls STEM events. "There are a lot of all-girls events in California, and they're doing really well in tech and STEM, and I think it's kind of time for the East Coast to catch up. And I hope that with our event, that we can boost our area as well," said Joy Shi, co-founder and executive director of InteGIRLS.
According to the competition organizers, the inaugural competition went really smoothly. "We had many skilled members and volunteers that were integral to the success of this competition," Yao said.
Shi reflected a similar view on the overall outcome of the event. "100 was like a dream when I first thought of the idea. I would never have thought that 135 girls would show up," Shi added.
Now that the competition is over, the girls are already planning next year's InteGIRLS competition and devising other ways to expand the organization. "One of our main goals for the next year is to become a non-profit," Yao said.
About the Contributor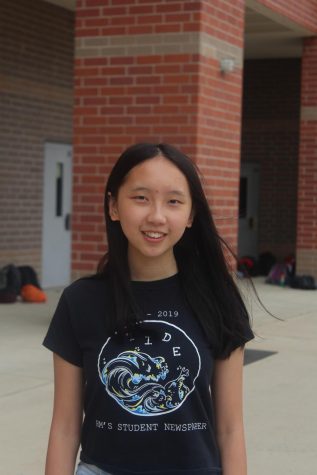 Ashley Ye, Opinions Editor
Ashley Ye, a high school senior and Tide Opinions editor, developed a love for journalism after writing for her elementary school newspaper. She has always...