From farms to FARMS: How school lunches travel to trays
Home to the classic chicken patty sandwich and personal pizza, school cafeterias are integral in providing healthy and affordable food options to hundreds of thousands of students across Montgomery County every day. However, many students are still in the dark about where the food on their plates comes from and what initiatives MCPS has implemented to make school lunches more affordable.
Regarding the origin of school meals, there is no single or easy answer given the wide range of sources from which MCPS gets their food. However, a majority of raw ingredients, such as raw potatoes, and prepackaged foods, such as frozen onion rings, come from contracts signed between MCPS and an ingredient supplier. Usually in the late summer, MCPS sends out an invitation for bid which allows different ingredient suppliers to bid to become suppliers of a certain food item. In the process of awarding a contract, a variety of factors are considered, such as the offered price per unit and ability of product to meet nutritional standards set by Division of Food and Nutrition Services. The bid is eventually awarded to a contractor who then becomes the sole provider of that specific food product for one year.
The raw ingredients are shipped to the MCPS Central Production Facility in Gaithersburg. The facility is split into three sections: a pre-packaging area dedicated to packaging elementary school meals, a cook-chill area where sauces and soups are made and an ingredient control area where ingredients are combined together to create meals. The county also has its own central distribution system since MCPS is the only county in Maryland that has its own food production facility.
"
We're pretty proud that our school lunches have always been of high quality and cost effective."
— Susan McCaron
"For our school district, which is different from other school districts in Maryland, we act as the distributors for our schools," Director of Food and Nutrition Services Susan McCarron said. "All the chicken or chicken patties or pizzas will come in here. We sort them out here and we send them out to the schools as the schools order them. We don't have distributors, like CISCO or US Foods, going to each of our schools."
In order to ensure school lunches remain both nutritious and relatively tasty, the Division of Food and Nutrition Services crafts its school menus with feedback from both a menu committee consisting of ten school nutrition professionals and student focus groups.
"We actually work with focus group schools and we have students taste test items that we might think of bringing on to make sure to get their input and if they thought it was acceptable before putting it on the menu," McCarron said.
The pre-prepared food makes it easy for school cafeteria workers to quickly cook the meals prior to the lunch period. "I take the food from the refrigerator and heat it up in the oven. There is a timer set specifically for each food that needs to be heated and when the timer beeps, I take it out and put it on the table," cafeteria worker Serena Chang said. Rice is cooked from scratch for at least half an hour, while refrigerated foods like chicken patties and pizza only take 10-15 minutes.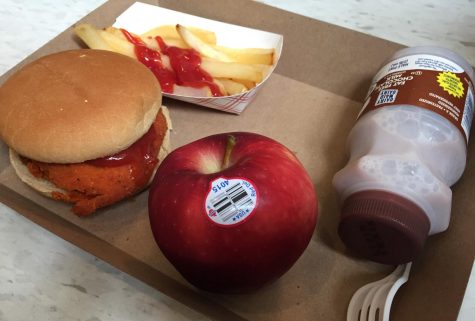 With all the lunches ready, hungry students file into the cafeteria at the sound of the lunchtime bell to choose from a few menu items, before tapping their PIN number into a keypad to purchase their lunch using their student account. Each lunch costs only $2.80, which most students find very reasonable. "For many years already [MCPS] hasn't raised the price," cafeteria manager Julie Chung, who has worked in the school cafeteria for the past two decades, said. "I think compared to outside it is much cheaper."
However, if a student plans to eat school lunch every day, the $2.80 lunches amount to a total of over $500 per school year—a price that some students cannot afford. To ensure that school lunches are affordable to all students, families can apply through the Free and Reduced-Price System (FARMS) for free or reduced-price lunches based on household size and income. At only 40 cents, reduced-price lunches cost exactly one-seventh of regular-price meals.
About a third of MCPS students currently receive free and reduced meals. For students on FARMS, eating school lunch is often the most convenient, cost-effective option. "It's not like the best thing I ever had, but it's good enough," said junior Samuel Kanda, who qualifies for free lunch. "I only eat school lunch every day because I have free lunch; free lunch, free food."
The FARMS program also takes a major weight off the shoulders of qualifying households. "It really eases my parents' minds," said freshman Tareq Elhamdani, who eats reduced-price meals daily. "But we don't really express it that often; we kind of hide it."
Besides FARMS, MCPS has participated in many other initiatives that allow more students to comfortably afford school lunch. According to McCarron, MCPS plans to lower the 40 cent cost of reduced-price lunches by 10 cents every year so that by 2023, all students who qualify for reduced-price lunches can receive their lunch for free.
"
I only eat school lunch every day because I have free lunch; free lunch, free food."
— Samuel Kanda
Just last year, MCPS created Dine with Dignity, funded by donations, which offers alternative lunches to students with an account balance of negative $10 or more who do not qualify for free or reduced meals.
MCPS has also taken significant steps to make breakfast free with the help of county, state and national funding. The county offers both breakfast and lunch at no cost in six elementary and alternative education schools with high poverty levels. In 82 schools across the county in which at least 40 percent of students qualify for free or reduced lunches, Maryland Meals for Achievement (MMFA) offers free classroom breakfast to all students, fully funded by the Maryland State Department of Education.
In addition, MCPS funds a universal breakfast for the select few schools that have relatively high FARMS percentages but are not eligible for MMFA: Gaithersburg High School, Rosa Parks Middle School and Roberto Clemente Middle School. Although the county covers the costs for these breakfasts, MCPS is also reimbursed by the United States Department of Agriculture.
From effective food sourcing to new affordability initiatives, MCPS Food and Nutrition Services is constantly making efforts to ensure that no student has to worry about being able to eat a fulfilling lunch at school. "We're pretty proud that our school lunches have always been of high quality and cost effective," McCarron said.
About the Contributors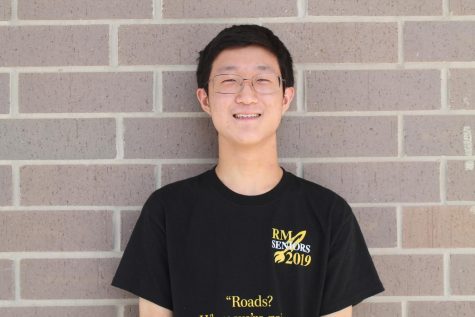 Justin Zhang, Sports Editor
Justin Zhang is one of the editors for the sports section. This is his second year as a sports editor and fourth year as a member of the Tide. When he...
Anna Chen, News Editor
Anna Chen is thrilled to be editing for the news section of The Tide alongside her two co-editors. She began contributing to The Tide in 2015 as a writer...