Crowded and Unequal: A Look into the Capital Improvements Plan
Asbestos. Crowded hallways. Lead in the water. Leaky pipes. All of this describes the infrastructural issues facing some schools in the Downcounty Consortium. Two schools, Northwood High School and John F. Kennedy High School, will be getting a dramatic makeover.
Montgomery County will spend millions of dollars in the Capital Improvements Plan (CIP) to expand these high schools, as well as reopen Charles W. Woodward High School, and make their facilities more equitable.
The new construction is primarily meant to address overpopulation by increasing each school's student capacity. As of now, Northwood has approximately 1750 students, about 200 students over capacity. The new addition aims to add 1200 seats, which would eliminate the need for the school's seven portables.
"It's a tale of two Northwoods," senior Cole Alderman, Northwood's SGA president, said, referring to how the cafeteria and auditorium are the only recently renovated parts of the school building. "The classrooms are the same as they were in the 1950s."
Northwood High School opened in 1959, but closed in 1985 due to low enrollment and deteriorating buildings, according to the Washington Post. The school reopened in 2004 to address overcrowding concerns in neighboring high schools.
"Less than two years ago, we weren't even on [the county's] radar to be remodeled," Alderman said.
The Northwood project does not have a completion date and students may be relocated during construction. Meanwhile, plans for the other DownCounty highschool are more clear: Kennedy will receive 18 additional classrooms by September 2022.
"AP classes are probably on average 32 to 34 students," said Mr. Michael Williams, the Minority Scholars Program Coordinator at Kennedy. "But that can vary."
According to Mr. Williams, while Kennedy has no portables, the school's overcrowding is most visible during lunch. "There's just not enough space to fit," Mr. Williams said. "They need to look at this through a more equitable lens."
A March 2018 memorandum to the County Council found that, without these expansions, the utilization rates at Northwood and Kennedy would be 141.2 percent and 119.5 percent respectively by FY2024, meaning the enrollment would far exceed the school's seating capacity.
Overpopulation directly impacts class sizes and worsens a teacher's ability to dedicate time to each individual student. MCPS classes sizes have increased by 7.49 students on average since last school year.
"I'm often a student aide and those ESOL classes are filled," Alderman said. "Sometimes there are 35 to 40 students per teacher." He said that since many Northwood students are DACA recipients (children protected on President Obama's Deferred Action for Childhood Arrivals policy), they don't vocalize infrastructure problems in fear of threatening their immigration status.
The socioeconomic effect on the overutilization cannot be ignored: Northwood and Kennedy serve mostly low-income population, as 75 percent and 81 percent of each respective student population has received free and reduced meals (FARMS) either now or in the past. Poverty already negatively impacts student achievement, and schools being overcapacity exacerbates the problem.
In interviews with The Tide, numerous sources attributed the facility inequities to property taxes being used to fund MCPS inequitably. However, local property taxes do not influence the countywide budgets the same way as in other school districts. Typically, property taxes fund smaller school districts and perpetuate de facto segregation.
According to SMOB Ananya Tadikonda and Montgomery County Councilmember Evan Glass, revenue raised from property taxes do not have to be reinvested in their originating localities. For example, if Rockville residents contribute $1 million in property taxes to the county government, Rockville schools are not guaranteed to receive $1 million back.
"
As I understand it, property taxes do not have any bearing on how funding is allocated."
— Ananya Tadikonda
Tadikonda said in an email, "As I understand it, property taxes do not have any bearing on how funding is allocated."
"In Montgomery County, all the property taxes are commingled and added to the budget as one," Glass said in an interview with The Tide.
Neither clarified whether or not MCPS divides the operational budget based on equity or equality. As for the CIP, the county funds school construction using a priority list based on factors such as enrollment projections, Glass said.
Both budgets must obey the maintenance of effort rule, a state law that prohibits school districts from spending less money per pupil than the previous year.
A root cause of inequality within MCPS funding is the power of PTSAs. PTSAs in more affluent neighborhoods have greater fundraising power than those in lower-income communities, Alderman and Mr. Williams claimed.
"PTSAs are very much decentralized," Mr. Williams said. "Areas where you have a larger population of wealthy parents can raise more money in those PTSAs, which can then be used for the school."
Perhaps more concretely, richer PTSAs are better able to mobilize their communities to turn out at advocacy events. PTSAs in lower-income and minority schools are not even always representative of its student populace.
"Northwood students are much more working class." Alderman said. "Our PTSA is still comprised of mainly older, middle-aged white women."
The county is also addressing equity concerns through its upcoming boundary study, with utilization being a factor for potential changes. But what else can the county do to bridge the divide?
Mr. Williams suggested the creation of "community schools," which include wraparound services, such as health clinics, that are available to non-student community members, to alleviate the community's aggregate financial constraints.
"The needs of Northwood students are much different than the needs of the W-schools in Bethesda and Potomac," Alderman said, with "W-schools" referring to Walter Johnson, Thomas S. Wootton, Winston Churchill, and Walt Whitman High Schools. "The best thing [for MCPS officials] to do is to go on some listening tour."
About the Contributor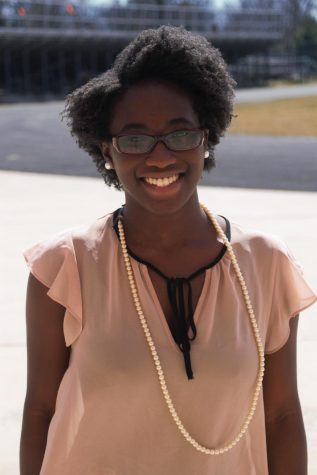 Crystal Foretia, Opinions Writer
Crystal Foretia is a opinions writer for The Tide. She covers politics and has written articles on student activism, climate change, the Democratic Party,...