Do AirPods live up to the hype?
Apple's newest accessory, AirPods, have been the go to joke for a while now. The little gadgets seem a bit ridiculous, at one hundred and sixty dollars. Yet, somehow, they are still so popular. Perhaps Apple no longer gives customers a choice on the matter, completely removing the headphone jack on more recent models of the iPhone so that the only option for earbuds is through the charging port. Is this the only reason why AirPods are so popular? Are these wireless earbuds really worth it? Or is it just another ruse for Apple to expand their empire?
Apple's wireless earbuds come with the same design as their wired EarPods, with the one size fits all, white, sleek and fashionable look. They are completely wireless, differing from some "wireless" earbuds with a neck wire. Since the design is one size fits all, and the earpiece itself is rigid and not ergonomic, a common concern that many customers have is how well the AirPod will fit, and whether it will fall out during exercise. Although the AirPods will not immediately fall out during exercise, some say that they always feel loose and insecure. This is very worrisome, considering that the earbuds' steep price. Comparable to AirPods, Samsung's wireless earbuds, the Gear IconX, are slightly more expensive at two hundred dollars, but also fit one's ears better. The bud is completely in the customer's ear, allowing for maximum security when exercising.
Another weakness of the AirPod is its sound quality. The AirPods' sound quality is subpar, with weak bass and even weaker noise cancellation. On the other hand, the Gear IconX has noise cancellation features as well as a strong bass. Additionally, AirPods do not have an app that can control all of their features. On the Gear IconX app, users can specify all settings to fit their unique needs. In this manner, Apple sacrifices utility for its minimalist aesthetic.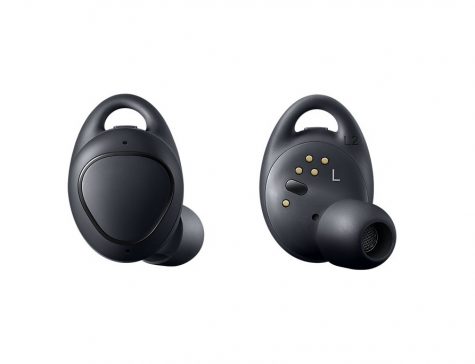 One of the AirPods' strengths include its ability to connect with iOS devices. If you already own mostly Apple devices, the AirPod is a wiser purchase than any other wireless earbud. Another strength of the AirPod is that it charges quickly compared to most competitors and has a longer battery life of five hours of listening time. However, AirPods, as of now, do not have a wireless charging case while the Samsung buds do.
The weaknesses of Apple's new wireless earbuds outweigh the strengths. AirPods are definitely not the best tech on the market, but they are the only one that is compatible with iOS. Once again, Apple proves to create sales by using its fervent fanbase. All things considered, only buy this gadget if you have mostly Apple devices. Otherwise, consider the Gear IconX or maybe even typical, wired earphones.