RM celebrates Black History Month with music, dance and soul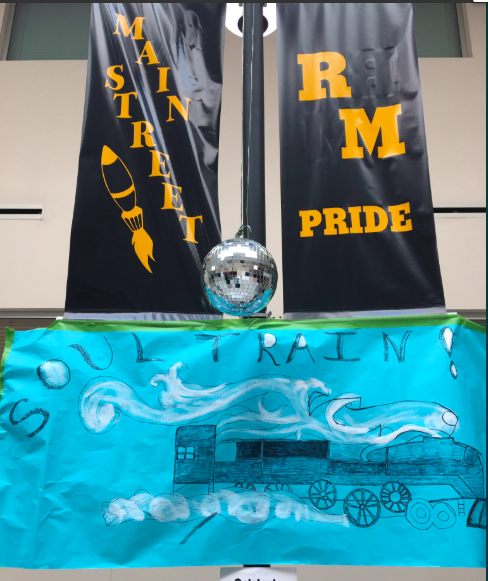 Hang on for a minute...we're trying to find some more stories you might like.
From traditional African music, clothing and dance to wave checks on Main Street, the RM community spent the month of February celebrating black history. Students of the RM Minority Scholars Program (MSP), Black Student Union and the Student Government Association collaborated with principal intern Kiera Butler to produce a variety of events devoted to honoring African American history and culture.
Black History month was first proposed in 1926 by Dr. Carter G. Woodson, known as the "Father of Black History."  He had hoped that this annual celebration would give Americans the ability to learn more about black history, as much of it was omitted from textbooks and schools for many years. "We continue to celebrate each year because every American benefits from knowing this history," history teacher Jerome Price said.
In previous years, RMBC has paid tribute to influential figures and movements in African American history by airing daily morning announcements and stories narrated by students. However, this year, the students of the MSP and the Black Student Union wanted to do more to commemorate black history and culture than simply morning announcements. "It's important that our black community feels that their history does not amount to the 'Black Figure of the Day' but something that built them to who they are, something personal," said Emnet Kahsay, a student leader of the Black Student Union.
On the last week of February 2019, students kicked the celebration into high gear, spending each school day from Feb. 22 to Feb. 28 bringing different aspects of black heritage and culture to the halls of RM. "It is my hope that our school community will take time to engage, listen, have fun,  and learn something new about African American history and culture," Mr. Price said.
Friday, Feb. 22 was Historically Black Colleges and Universities (HBCU) gear day, where students wore clothing from many different educational institutions. Students switched to colorful traditional attire from their home country for "Motherland Attire Monday" the following Monday, Feb. 25 and dashing formal dress on Tuesday for Black Excellence Day.
Additionally, the first African Diaspora concert night,  was the African Diaspora concert. The African Diaspora concert was filled with energetic dance, delicious food, and an entertaining student talent show. Performers in the talent show danced to Afrobeats and East African music, sang traditional African songs, and strutted their eye-catching styles in a fashion show. RM also displayed multicolored banners depicting each African country's flag alongside the walls of the auditorium. "The celebration brings all students closer together," senior Aguer Dau said.
Wednesday, Feb. 27 was Black Hair Care Wednesday, and students displayed how they care for their hair and wore bonnets, scarves and durags. Many students came together on Main Street during lunch for a wave check to recognize all the hard work that's gone into their waves and hairstyles.
Students finished the spirit week with pops of color and infectious soul music on "80s-90s Fashion Thursday," coming dressed in colorful windbreakers, jumpsuits, and Air Jordans. During lunch, students united on Main Street to dance and sing along to music by African American artists and partake in an electric soul train. Students and teachers grooved to the sounds of Whitney Houston's "I Wanna Dance With Somebody" and "My Boo" by the Ghost Town DJs.
Although Black History month has ended, RM's first significant celebration of black history and culture has set a precedent for future years. "In the beginning, we just wanted a way to celebrate Black History for the students but through it all, I think this really served as the first building block for years to come," Kahsay said.
About the Writer
Brooke Hilliard, Centerspread Editor
Brooke Hilliard is a features writer and an editor for Centerspread. She began writing for the Tide during her junior year at RM and is excited to take...