Rockets tennis dominates Blair, secures second 7-0 victory of the season
On a dull and cloudy Wednesday afternoon, the RM girls tennis team won against the Division I Blair Blazers in almost a four hour duel. Despite the rough condition of the courts, soaked from the heavy rain that came the night before and the extremely windy weather, the girls felt confident and excited after their win over B-CC on Monday. The Lady Rockets secured their second 7-0 victory of the season over the Blazers.
Slightly before the lineup was announced, the tennis team joked around with Coach Fahrner about becoming one of the "W" schools along with Wootton, Churchill, and Whitman if they defeated Blair, setting up a casual and relaxed mood. The girls felt minor pressure in the beginning, but after the number of wins started increasing, they were carefree and at ease.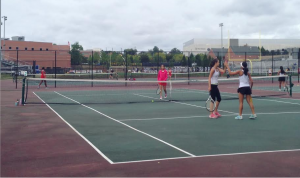 The girls breezed through their matches so that after an hour and a half, they were already leading 5-0, guaranteeing their win early on in the game. The most exhilarating performances to watch included matches from first singles player Ana Maria Escudero, second singles player Cynthia Song, and first doubles players Rachel Do and Cassie Ulvick. After quickly and effortlessly winning the first two sets with a beautiful score of 6-0 in the first match and 6-1 in the second, Escudero easily defeated her Blair opponent. Similarly, Song triumphed over the other player by winning two sets with scores of 6-2 and 6-3. Do and Ulvick tackled quite a challenge when facing their rivals, having been the only ones to play a third set. After almost four hours of endless rallying, the two finally won their match 6-4 in the third set, ensuring the Lady Rockets' complete victory. The spirited and faithful team members stayed after sunset to watch the harsh first doubles match, showing their devotion to the team and sport.
After much intense rallying, stunning serves, and strong encouragement from all the players, the team overpowered Blair, claiming the title of the number four team in the county. "Having good team support was important. We did a lot of cheering for the matches that were left, and I think it helped a lot," said freshman and fourth singles player Piper Feldman. The girls are on to their next game at Rockville High School on October 5 at 3:45 p.m.