Girls tennis defeats Walter Johnson despite poor weather conditions
After defeating Walter Johnson and kicking the rival team out of their Division I spot just two years ago, the RM girls tennis team once again proved exactly why they are worthy of their hard-earned Division I status with today's decisive victory over the WJ Wildcats. Hosted on the Walter Johnson courts on an exceptionally windy Saturday morning, the Rockets were undaunted by the less-than-favorable weather conditions and overpowered their opponents, dropping just one match and securing a 6-1 win.
With Walter Johnson being one of the stronger contenders in Division II, the Rockets were prepared to face an opposing team that was tough to beat and hungry for redemption after their disappointing drop to DII two seasons prior. "They're going to be looking for revenge, they've got a chip in their shoulder," warned Coach Fahrner prior to the start of the match.
However, the RM girls tennis team proved invulnerable and cruised through most of their matches ahead of schedule, with an especially strong showing at 4th singles, 1st doubles, and 2nd doubles. "I just kept in mind what Coach always tells us. Play hard, play smart, and have fun, but it's more fun if you win," said junior and 2nd doubles player Varsha Ramachandran.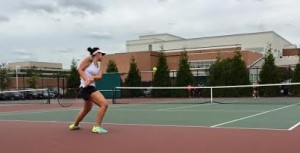 With the majority of the matches finished well before the two hour mark, the most thrilling performance of the day came from 3rd singles player and senior Mia Deng, who pulled off an enormous victory over the WJ opponent in three long and grueling sets. Losing the first set 2-6, Deng was able to come back and clinch the second set 7-6, winning the close, tense tie-breaker 8-6. It was in the third set, however, in which both players were truly tested. Watched by a spirited audience composed of the two rival teams, the players had to battle their own emotions as well as each other. Ultimately, after six intense games full of excellent rallying and great shots hit by both girls, Deng was able to prevail 6-4.
The RM girls tennis team will now turn its attention to the crucial upcoming games against fellow Division I teams B-CC and Blair. In order to remain in Division I, RM will have to defeat at least one of these two tough opponents. Make sure to come cheer on the Rockets at the home match against Blair on Wednesday, September 30th at 3:45 p.m.