RM girls varsity soccer defeats Einstein in senior night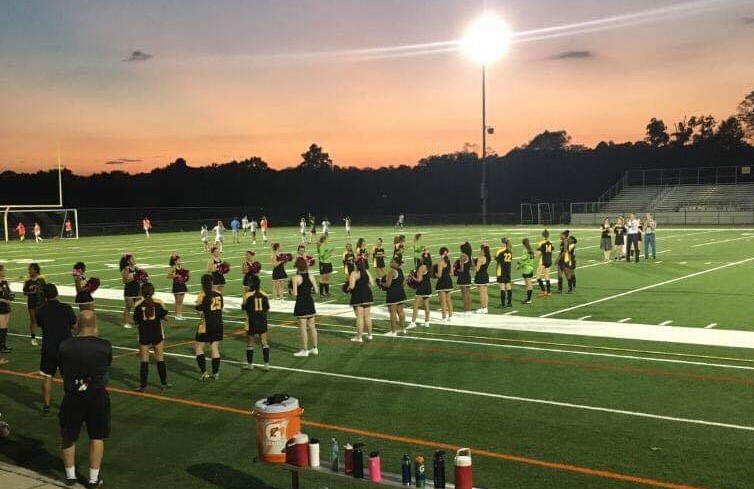 On Monday October 8, 2018, the RM girls varsity soccer team took on the Einstein Titans for their senior night in honor of their five seniors: Elizabeth Blake, Giulia Testa, Delaney Goetz, Ally Ratkowski-Howe, and Cassie Hartmann. In a last hurrah, the Rockets toppled the Titans with a 7-0 shutout.
The Rockets began the game with a celebration in honor of the journey of their five seniors. Reflecting on her experience with the team throughout high school, Blake said, "Soccer has helped to bring me close to so many different people that I might not have been friends with otherwise." Her experience reveals an often overlooked aspect of high school sports—the opportunity to develop lasting relationships outside of pure athletics.
As much as the team meant to Blake and the other graduating seniors, their contributions back to the team are just as significant. Junior Helena Chang explained, "The seniors are very important to the team, they not only contribute their skills but their love for the game rubs off on the whole team. They're always there to support us on and off the field."
As the ceremony drew to a close, the girls turned their attention to the match, starting off strong with a left footed chip from Ratkowski-Howe just five minutes in. Goalie junior Cory Bucy was also given a stress-free opening as the team kept the ball in Einstein's half of the field, unrelentingly putting pressure on the Titans.
Blake and junior Diamond Alexander both had amazing breakaways and advanced the offense, setting up freshman Kara Venditti for the final goal of the half. Taking a beautiful corner and tipping the ball just past the goalie, Venditti gave the Rockets a 2-0 lead at the break.
The second half began just as strong as the first. Within four minutes, freshman Marlee Heaven scored a stunning goal from the top of the box, a long soaring shot into the back of the net. The Rockets continued their commanding lead with two goals by Blake and another goal from Ratkowski-Howe. Junior Diamond Alexander also had a spectacular breakaway, faking out the goalie to have a clear shot on goal.
To close out the match, all five seniors were sent in to play their final ten minutes on RM turf.
This dominant match was one of the best games the girls have played yet, a fitting end to the high school careers of their five seniors. The girls will be looking to finish out the season strong next Monday, against the Blair Blazers.