36 RM students named National Merit Scholarship Semifinalists
On Sept. 12, 151 MCPS seniors were publicly announced as National Merit Scholarship Semifinalists. The title opens the door to a several-month-long process for students who hope to win a $2500 National Merit Scholarship. With 36 semifinalists, RM had the second-highest number of qualifiers among 15 other Montgomery County schools.
Students across the U.S. become semifinalists if they score high enough on the Preliminary Scholastic Aptitude Test (PSAT), which they take in October of their junior year. As the National Merit Scholarship Corporation states, less than one percent of high schoolers qualify every year. The number of semifinalists in each state correlates with the number of high school seniors in the state.
According to Compass Education, Maryland, along with California, Massachusetts, and New Jersey, had the highest state cut-off to qualify this year—a Selection Index of 223. Despite how difficult it is to be selected as a semifinalist in Maryland, many qualifying RM students took the PSAT without the scholarship weighing too heavily on their minds.
"We were never told it was a big deal; everyone was just like, the PSAT doesn't matter," senior Ivy Han, one of the National Merit Semifinalists, said. "Your colleges don't see your scores."
Likewise, senior Daisy Liao, who also qualified as a semifinalist, said, "I didn't realize we could get money for it."
Others saw the scholarship as just another step in the college-application process. "It was something that I knew existed, but it wasn't necessarily something that I really tried hard to score high enough to be counted as a National Merit Semifinalist. I took the SAT in August, and I didn't do any extra preparation for the PSAT," senior and semifinalist Grace Zhou said.
For semifinalists to advance to the finalist standing, the National Merit Scholarship Corporation requires that they take the SAT by Dec. 1 and score equally well. Students must also submit a scholarship application with a resume, a recommendation letter from the principal or a school official, an academic record, and a personal essay by Oct. 10.
Juniors across the country will take the 2018 PSAT on the same date. For students like junior Jolly Rop, the potential scholarship is an incentive to prepare for the test. "My mom wants me to do well on the PSAT because the cost of college is such a huge part of the college admissions process, and she wants me to have good opportunities," Rop explained.
In regards to the $2500 scholarship itself, Rop said, "I've heard from people that it's not really that worth it since very few people actually make it to the very top." The National Merit Scholarship Corporation states that 90 percent of semifinalists become finalists, but only 2500 students nationwide receive the scholarship. 1000 corporate sponsored scholarships and 4000 college-sponsored scholarships are awarded as well.
"It's good to use it as a baseline for what you need to work on for the actual SAT, but to depend on it as your total financial aid is not going to be a wise idea," Rop said.
While several RM seniors become semifinalists and finalists every year, the National Merit Scholarship Application is just one path out of many for most eligible students. "It's on my to-do list to actually use my login," Han said. "I'm also working towards scholarships offered by universities themselves."
"The PSAT is not something that's going to make or break you in terms of college acceptance," Zhou said. "There are so many other opportunities for scholarships; it's not like the end-all-be-all in terms of scholarships or acceptance. So you should try on it, but it's not something where you should be having breakdowns or stressing so hard about it to the point where you're crying everyday and you're miserable the week beforehand."
About the Contributor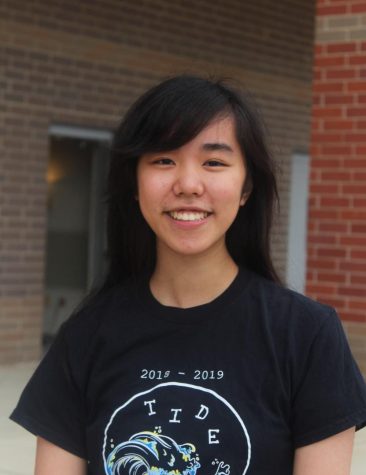 Helen Qian, Editor-in-Chief
Helen Qian is thrilled to work with The Tide as one of the Editors-in-Chief this year. She previously served as the News Editor as well as a news writer...