The cost of the late bus
Hang on for a minute...we're trying to find some more stories you might like.
It's the second day of school. I arrive at my bus stop at 7:02 a.m. Four minutes pass, and my bus fails to appear. It's the first week of school, I thought. No need to worry.
Another five minutes pass. It should have been here by now. Anxiety creeps in. I text my friend Grace, who rides the same bus. She tells me it's running ten minutes late. She then adds, "Here we go again." I sigh in exasperation. This is far from the first time this has happened.
I enter the school cafeteria after the late bell rings. I ask for breakfast, explaining that my bus came late. My biggest fear is confirmed when the personnel tells me that after the bell rings, they cannot sell any more food.
Given the scenario laid out, consider how this affects students on Free and Reduced Meals. Students who receive free breakfast usually don't have access to nutritious food at home, so if the bus arrives late, they will be left hungry until lunch.
Washington Post writer Casey Seidenberg wrote, "Four out of five children do not get enough vitamins and minerals from lunch and dinner alone."
According to the NIH, missing breakfast endangers child development. Researchers have found that eating irregularly or skipping breakfast correlated to worse attention spans, worse memory, and less academic achievement.
"Evidence suggests that breakfast consumption may improve cognitive function related to memory, test grades, and school attendance," said a 2005 study by scientists at the University of Florida.
The nutritional value of breakfast cannot be understated. School-provided breakfasts meet healthy nutritional standards set forth by the federal government, and skipping them has been associated with overeating later in the day as a form of compensation.
Even when students have access to food at home, chronically late buses force them to wake up earlier to prepare their breakfast and ensure that they get to school on time.
Unfortunately, students across the nation already don't get enough sleep due to early school start times and copious amounts of extracurriculars and homework. Similar to missing breakfast, losing sleep can lead to lower school performance and unhealthy eating habits.
As someone who wakes up at 6 a.m. to catch the bus, I think it is unreasonable to ask students to get up even earlier to eat breakfast, in fear that their bus will prevent them from doing so otherwise. My friends in magnet programs have to get up as early 5:30 a.m. to get ready for school.
As of now, Montgomery County Public Schools requires that buses arrive to high school 15 minutes before the late bell rings. However, this policy is not always followed.
Senior Ummara Khan said her morning bus arrives after the first bell rings 40 to 50 percent of the time. Khan said. She told The Tide how her friend last year rushed to get to first period, often skipping breakfast, saying, "I feel like if I was a student who relied on school breakfast, I would not trust the bus to get here on time." 
Regarding whether or not he would rely on his morning bus to arrive early enough for school breakfast, senior Lucas Frassrand said, "That's difficult situation. I probably wouldn't though."
I am sure MCPS is not the only school system that has experienced this issue. Any school district, especially those as large as MCPS, could struggle in making effective bus routes. The problem exacerbates when you consider geography, road conditions, and whether or not students decide to go to their home high school.
One solution is greater oversight on the part of the school district's transportation department. Students should not be forced to go hungry because bus drivers are not trained to watch the clock.
Photo by Anagha Shastry.
About the Writer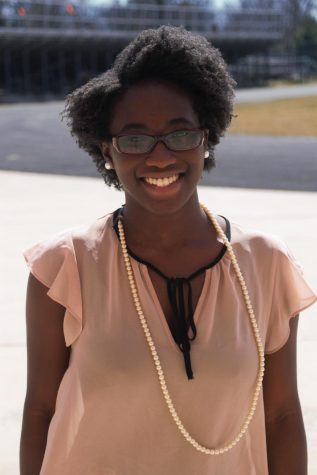 Crystal Foretia, Opinions Writer
Crystal Foretia is a opinions writer for The Tide. She covers politics and has written articles on student activism, climate change, the Democratic Party,...