Why 8th graders should choose RMIB
Hang on for a minute...we're trying to find some more stories you might like.
Flash back to your eighth grade International Baccalaureate (IB) Open House, where you were introduced to the RM IB Program. Recall seeing the complete gamut of exhibitions of classes and clubs, feeling overwhelmed by the number of strangers, and struggling with the final decision about where you wanted to go. That is what current eighth graders, prospective candidates for RM's IB program, have just experienced.
For those bright-eyed, impressionable eighth graders: I have a message for you. Due to the immense amount of opportunities found here and quality of the program, I strongly urge you to make the right decision and join our IB program.
The IB Program is a rigorous, standardized two year program that results in an IB Diploma. Diploma candidates are expected to be knowledgeable in six different subject areas, challenge the nature of knowledge, and be culturally sensitive. IB is a great program for those who truly want to learn and expand their ways of thinking.
Research has proven that IB is an effective program for preparing students for college. Studies conducted by the International Baccalaureate Global Research department found that students with an IB diploma were more likely to complete college than their non-IB counterparts, and IB alumni had higher four-year graduation rates. Both of these statistics demonstrate IB's dedication to academics.
IB prepares students for life outside of the classroom as well, especially through Theory of Knowledge, a required class in the Diploma Program that encourages students to question the nature of knowledge, improves candidates' critical thinking and reflection skills. "Theory of Knowledge is an amazing IB aspect that sometimes gets forgotten," RMIB alumnus Elise Steenburg said.
IB also prepares its graduates well for college. "In college you will find yourself a step ahead of some of your classmates because of it," IB alumnus Heavenly Zheng said. Completing the IB program may reduce the initial stress of college due to its rigor.
Not only is the curriculum intellectually challenging, Richard Montgomery also has high-quality teachers. "IB gives you a well-rounded and self-reflective curriculum with fantastic teachers in every department," Zheng explained. The school currently hosts the MCPS Teacher of the Year, Nancy Shay, among other outstanding staff which make up the backbone of this program.
Perhaps most importantly, the IB program is also filled with quality students. "There are a lot more motivation and hardworking kids than other schools because in this school," sophomore Genevieve Grenier said. Being in an environment of academically achieving peers will encourage you to be the best you can be.
In addition, RMIB is extremely diverse in multiple aspects. Since it serves as a countywide magnet program, it attracts students from across the entire county from different geographic regions and economic standings. "It's cool because all my friends are pretty different, whether it be in their interests or background," sophomore Genevieve Grenier said.
IB's interdisciplinary nature is a very unique aspect of the program, considering other magnet programs have a specific focus such as STEM or humanities. "I have friends who have dedicated their whole lives to math, friends who are really politically involved, and friends who can play the most insane piano sonatas," Grenier said. The diversity of interest further ensures that everyone can find their niche here.
The diversity of the program is partially due to the quality and number of extracurriculars at the school. With over a hundred clubs at RM, from drama to UNICEF, every interest is represented, with clubs such as DECA that may not be offered at your home school. "RM had so much more opportunities," junior George Wang said.
Another deciding factor would be the school's location. RM is near the heart of Rockville: Rockville Town Center. A combination of the school's location and open lunch policy gives students access to several quality restaurants within walking distance, such as Jumbo Jumbo, Om, and Potbelly. There are also a lot of entertainment options, such as the Regal Movie Theatre and the ice rink, that students can go to directly after school to unwind, and the nearby Rockville Library serves as a great study location, so students can easily form study groups with their peers.
Ultimately, it is each individual's choice to decide whether they join IB or not. Steenburgh suggests a trick for figuring out where you really want to go: "If you're stuck between RMIB and another magnet program, flip a coin. If you hesitate on the answer you get, immediately go with the other option, because subconsciously you wanted it more. Bam. Psychology." If that fails, there are other options, such as shadowing, that can help you make the decision.
For those who are entering the RMIB community, we welcome you. "Do what you love and that will make you happier and not take away from your energy," Grenier said. Personally, joining IB has been a life-changing experience, and it shaped me into who I am today. High school is supposed to be the best time of your life, so I strongly urge you to take advantage of the opportunity join RMIB.
About the Writer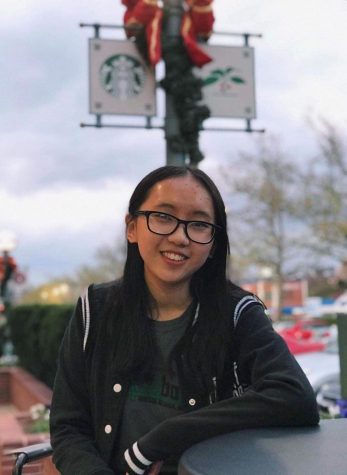 Ashley Ye, Opinions Editor
Ashley Ye, a high school junior and Tide Opinions editor, developed a love for journalism after writing for her elementary school newspaper. She has always...