Montgomery County students walk for gun control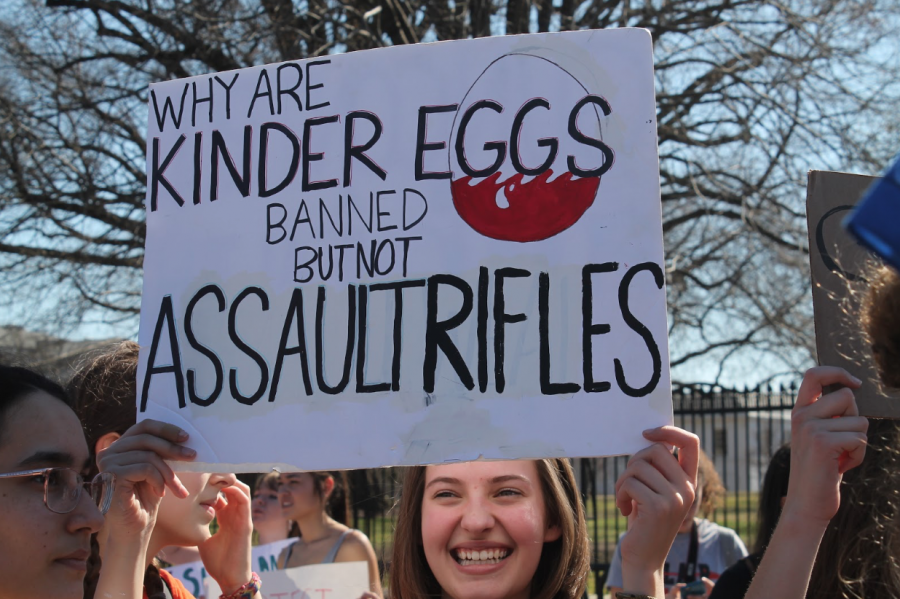 In the wake of last week's mass shooting at Marjory Stoneman Douglas High School, hundreds of Montgomery County high schoolers walked out of class to march in D.C. for increased gun control.

At RM, the walkout began between second and third period. About a hundred students met at the flagpole and walked together to the Rockville metro station, where they then traveled to Union Station to meet up with students from Montgomery Blair, Bethesda Chevy-Chase, Walter Johnson, and others. Together, the students walked to the Capitol and White House.
Collectively, approximately 1300 students showed up for the protest, according to Bethesda Magazine.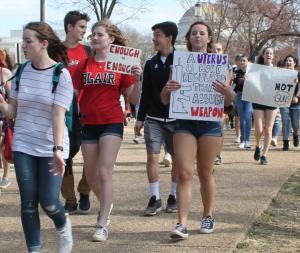 Students held signs that urged stricter gun control and safer schools, chanting mantras like "How many more?" and "Hey hey, NRA, how many kids have you killed today?" in front of the Capitol and on their walk to the White House.
Signs like "Students should worry about a 4.0 not a .40 at school," and "Why are kinder eggs banned but not assault rifles," caught the attention of D.C. bystanders and media crews alike.
Jamie Raskin, Representative of Maryland's eighth district, and Jen Pauliukonis, president of Marylanders to Prevent Gun Violence, joined students in their rally. "America's high school students are leading a revolution against political complacency and collusion with the NRA," Raskin said.

RM senior Daniel Gelillo organized this walkout, working with student leaders from BCC and Blair. Like other students nationwide, Gelillo felt an obligation to stand up for his beliefs. "We did this because we need to draw attention to the need for gun control in this country. It's as simple as that," he said.

However, Gelillo did not expect such a large turnout.  "I thought we'd get 300 kids max. But it turned into something a lot bigger than that and that's incredible," he said.
Gun control has also become more personal to Montgomery County students after recent events, including last week's Clarksburg High School gun possession and the two bomb threats and subsequent evacuations of Churchill and Walter Johnson earlier on the day of the walkout.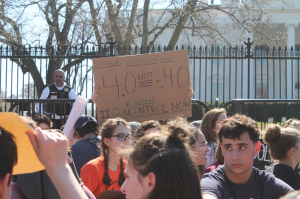 Many students feel a closer, heightened sense of fear. "School students have become so common that you'll hear about it in the news and be like, 'Oh yeah, another one.' It never really hits you as hard as when you realize something is happening in your county or in your area," Montgomery Blair senior Sabrena Li said.
Students marched for stricter gun control, but some students, such as Walter Johnson senior Gabrielle Zwi, participated because they are also friends with the students of Marjory Stoneman Douglas High School. "I'm here today because I actually have a friend, Carly–I'm going to school with her next year–who was in the school and I just heard from her firsthand in addition to all the things you'd hear on the news," she explained.
Unlike some of the past shootings, students wanted to participate directly in the political world rather than discuss among just friends and family. "A lot of times when these shootings happen and we feel vulnerable and scared, it sort of just stays in the hallways and in classrooms. So to come out here, to come to the white house, to the capitol building, is something to show that we're also concerned and that these things don't just go unnoticed to us," RM senior Jude Jones said.
What protesters emphasized was that many of them will be able to vote in this year's upcoming election–meaning that lawmakers must listen to them if they want to be elected. "I hope that Congress realizes that probably a third of us are going to be 18 in the upcoming elections and they realize that their constituents will not stand for the way that they've been acting in the past," Zwi explained.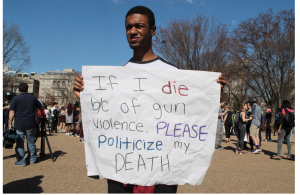 Whereas some politicians might argue against politicizing student deaths, students want action. In fact, Marjory Stoneman Douglas High School students have already announced a march on D.C. on March 24.
"A lot of times when people die in not just shootings but in any gun violent activity, they say 'Oh, don't politicize it. Thoughts and prayers, thoughts and prayers, thoughts and prayers.' But I feel like the only way you can get justice for the victims is to make it so that there are no victims," Jones said, explaining the meaning behind his poster that read, "If I die b/c of gun violence, please politicize my death."
An absence of gun control legislation following tragedy is not new. Last week's Florida shooting became the third deadliest school shooting in history, after the Virginia Tech and Sandy Hook Elementary School shooting in 2007 and 2012, respectively.
More than anything else, students were angry, frustrated that so many lives had been lost yet very little legislative action had been taken.
"Gun control as a topic has been in the hot press for quite a while now, but nothing has been done. Columbine was what, 19 years ago? And we're still at the same point. How many children need to be killed in order for Congress to take a stand?" Li said.
As students marched from the Capitol building to the White House, cars honked and bystanders clapped in support. After the demonstration ended at around 1:15 pm, many asked protesters for photos or praised them for their work. 'It felt pretty good just in the sense that we received a lot more support from onlookers than we were expecting," Zwi said.
Montgomery County public schools did not approve or promote this walkout, emphasizing that students would not be excused for their absences. Middle schoolers in the area may also be interested in protesting but are discouraged from leaving campus for safety reasons.
Gelillo, who later appeared on MSNBC's Hardball with Chris Matthews the evening of the walkout, hopes his fellow classmates will continue their efforts. "I hope that people stay active, because this is not the end of the road. This is a long fight and it's gonna take a long time and a lot of effort, but we're going to do it. The NRA doesn't stand a chance," he said.
Featured photos courtesy of Emily Chen.
About the Writer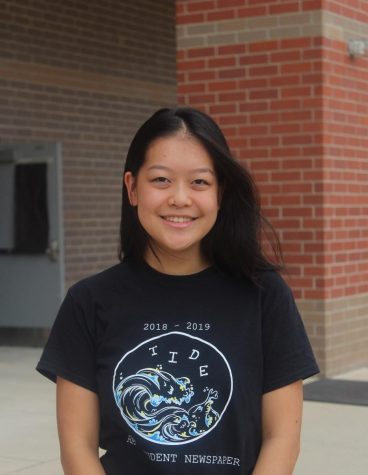 Emily Chen, Editor-in-Chief
Emily Chen is excited to be one of The Tide's Editors-in-Chief this year and work with a great panel of editors and staff members. Before becoming EIC,...