Notable professor discusses The Great Gatsby
On February 9, Maureen Corrigan, Georgetown professor and author of So We Read On, visited Richard Montgomery High School to speak about The Great Gatsby, a staple in American high school literature. Unlike typical school trips, students across both grade levels and programs sat in the audience, united through Fitzgerald's 1925 novel.
Most students at RM read The Great Gatsby in tenth or eleventh grade, but almost all students read it at some point in their academic careers. This novel also spans across generations, meaning that teachers and students experience the book alike.
"I bet that it would be impossible to find a single teacher who didn't read, or was supposed to have read, The Great Gatsby in high school, and I feel that every child who walks through these doors reads excerpts of or the entire book," RM magnet coordinator and English teacher Ms. Shay said.
Maureen Corrigan's So We Read On: How the Great Gatsby Came to Be and Why It Endures investigates the historical and cultural value behind Fitzgerald's novel, and why we should continue to study and read it. She is also a book critic for NPR's award-winning Fresh Air and has had several of her reviews published in The Washington Post.
Her visit to Richard Montgomery is a rare opportunity as she only does two or three presentations like these per year. "When I told the English teachers that I had scored this date with Maureen Corrigan, she was like a rockstar. To us, it was a big deal," Ms. Shay said.
As a lecturer in English at Georgetown University who has read and taught the novel countless times, Corrigan is well versed in the novel from its most specific details to widespread significance.
Her in-depth analysis left many students with new perspectives on the novel, regardless if they had finished the book or not. "I thought it was super informative and it offered a lot of new, unique perspectives that I hadn't thought of before," junior Colette Veltri said. "I really liked the entire idea of it being considered the 'Great American Novel' was interesting because i had never seen it like that. I'd always seen it as a school project or a school assignment."
Corrigan usually speaks to a small group of 20-30 students, so this presentation exposed some students to what higher level english classes might look like. In fact, as students in all grades and teachers asked questions, her discussion was more packed and opinionated than what some students might be used to.
"I think high school students aren't used to hearing their teacher say, 'I disagree with you.' But I liked that she did that because it really opens the conversation. I don't think she shut it down but rather opened it up," Ms. Shay said.
This shared experience brings RM towards more unity in an academic fashion. "So many times people talk about Richard Montgomery as a school within a school because we have different academic programs," Ms. Shay said. "But I like the idea that we're better than that, more than that and that we can share intellectual discussion together."
Ms. Shay and other teachers are trying to bring in more scholars to open up more discussions. "I've been working with Mr. Bayer and we wrote three different grants this year to get an African American poet, whose name is Clint Smith, to come out," Ms. Shay said.
"We're hoping to have not only an assembly where he addresses all the 11th graders because they've all read his poetry, but also some mixed group discussions so that students across academic programs could talk about this poetry not only for its literary value but also its thematic implications; what it has to say about race relations in our country,"Ms. Shay added.
She continued, "The vision is to see students talking about issues that matter that we sometimes don't talk about except with our close set of friends or the people we're in classes with, and to talk about literature in a meaningful, productive, fulfilling fashion."
For many RM students, Corrigan's presentation offered a more meaningful interpretation of this famous, timeless piece of literature. Through connections with today's world and more modern interpretations of the older text, Corrigan showed students not only why The Great Gatsby is important, but also the value of close literary analysis.
Featured photo courtesy of Anne Koroknay
About the Writer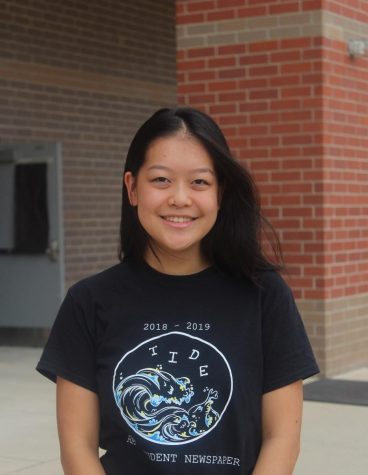 Emily Chen, Editor-in-Chief
Emily Chen is excited to be one of The Tide's Editors-in-Chief this year and work with a great panel of editors and staff members. Before becoming EIC,...