Ele Eschenburg's brush with inspiration
Hang on for a minute...we're trying to find some more stories you might like.
"A transition of a person's mental state changing from happy to very upset and crying, with a breakthrough of hands ripping back canvas to unveil beautiful rural land toward the bottom, showing the beauty in life and a world without expectation," senior Eleftheria (Ele) Eschenburg said about her recent painting, "Human Nature."
Surprisingly, it was not too long ago that Eschenburg began to truly pursue her interest in art. "I always liked to draw and doodle as a kid, but it wasn't until tenth grade when my interest really began to take off," she said. "That year I had switched to Drawing and Design and with the instruction from Ms. Posey, I had begun to improve my work little by little."
That hard work paid off. "Later in the year, [Ms. Posey] had recommended AP Studio Art––for junior year––to me and others at my table."
Eschenburg is currently taking AP Studio art, which requires that each student create a portfolio of works with a common theme.
"In our sketchbook, we'll have four to six pages of planning and/or full finished drawings," Eschenburg said. "Being surrounded by other great artists and getting feedback from them and giving feedback to others, it's an overall great time with lots of opportunities. But there is a lot of work that goes along with it."
Much of Eschenburg's work follows similar themes, like portraits of women and figures in perspective. "You can convey so much emotion, and the interaction between people intrigues me greatly," she explained. "Any person, no matter gender, race or culture, could have different hardships and stressors surrounding them which can affect their motivation and personality. But somehow I'll try to show the good side to things."
One such piece was Eschenburg's painting "Human Nature." Eschenburg submitted the painting on January 12 to the Johns Hopkins art competition and expressed her excitement to hear back from them: "It took me about two months to finish but it is one of my best painting pieces yet," she said.
This is not the only art competition Eschenburg has participated in. "I have a bit of a competitive side, but mainly I feel that it's good for me, and anyone aspiring to be an artist, to put work out for others to view, since I plan to do this for the future," she said.
Though most of Eschenburg's work is done in paint, pencil and ink, she is familiar with a wide range of artistic mediums. In addition to her AP Studio Art class at RM, Eschenburg currently attends two art classes at Montgomery College (MC): Intaglio Printmaking and Jewelry Metalsmithing. "I'm really excited to begin learning about metals and the process of ring-making, plus I have a ton of earrings and would love to craft some up!" she explained.
Eschenburg attends the classes at Montgomery College from 1 to 3:40 P.M. either on Mondays and Wednesdays or Tuesdays and Thursdays. "Going to MC has been a wonderful experience and I'm so glad I went with an abbreviated schedule to keep my main focus on my artwork," she said.
In terms of the future, Eschenburg has some clear personal goals: "After I graduate, I would love to first just get some of my own paintings done, leading to becoming enrolled in an art institute in the fall of 2018," she said. "Since I love making mixed media and learning about different mediums, gaining as many techniques as possible in my next years of college is definitely my ultimate goal."
Perhaps even more impressive, though, is that these goals seem to be within reach for Eschenburg, whose art skills blossomed just two years ago. To her, the explanation why is very simple.
"Art isn't something suitable for only certain people, it is a universal language that everyone knows," she said. "Through practice, repetition and patience, you can produce artwork like no other."
Featured photo courtesy of Mikhaila Estwick. This article was originally published in the February 2018 issue of  The Tide with an incorrect byline.
About the Writer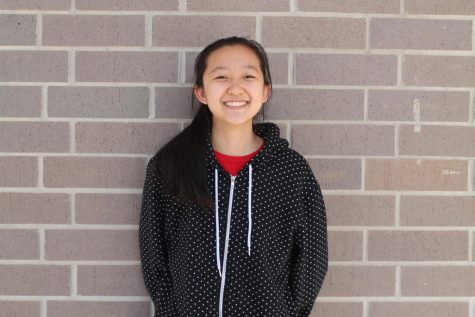 Clare Zhang, Sports Editor
Clare Zhang is excited to be joining the sports section as a co-editor this year. She has been part of the Tide since freshman year and has written for...