Reboots of classic TV shows ride waves to dominance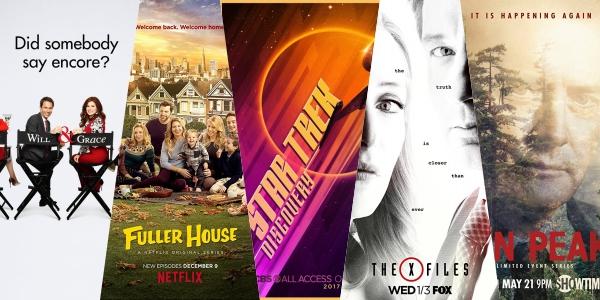 Hang on for a minute...we're trying to find some more stories you might like.
Written by Christine Zhu and Tudor Postolache
According to Business Insider, at least 34 TV reboots and spinoffs premiered in 2017. Producers create reboots for a myriad of reasons: nostalgia, drawing in more viewers, and earning money. Some perform better than the original show, while others end up a tad worse off.
"I definitely feel like the number of reboots has increased over the years," junior Emmanuel Corporal said. "I feel like it's because fans of the show are gaining nostalgia." Just like numerous clothing trends, many TV shows have made their way back into style in recent years.
Sophomore Jorge Mendoza said, "If it worked once, why bother coming up with a new idea? Companies feel like they have better success doing things that already exist." Examples include 2016's "Fuller House" and 2018's "Heathers" along with other reboots such as "Will and Grace," "Roseanne," "Twin Peaks," and many more.
Sometimes viewers respond negatively to reboots. "Heathers" is a TV remake of a 1988 movie with the same title. "I am not a fan of it," RM 2017 graduate Meghan Audi said. "It completely misses the point of the original 'Heathers,' which was a dark comedy with a lot of good, insightful social commentary. The new TV reboot seems like it misses the mark completely, it doesn't stay true to the roots of the original movie, and it seems like, ultimately, it'll be a flop."
On the other hand, reboots also generate positive responses, because they have the potential to be developed to offer more than what their original versions provided. "They can really evolve as a show. I believe that reboots can become as big as their old show, if not bigger," junior Nick Leiva said. Spinoff "Fuller House" is rated 7/10 on online movie database IMDb, while its original counterpart "Full House" rated slightly lower at 6.7/10.
However, there is a growing concern that reboots are taking priority over original and creative ideas. "People have very fresh ideas and these new reboots, instead of even building off that, they want to just appeal to the public." Leiva said. The success of reboots may make new ideas and creativity obsolete, as broadcasters see that reboots can retain their old audiences and find new ones as well.
Still, some viewers and fans would believe that the best outcome for a classic show is to forgot rebooting it at all. Corporal said, "I feel like if you do too many reboots, you're gonna be wearing out how good the show or series once was. At the same time, these things aren't always executed right; things always go wrong."
"[Reboots] reflect a lack of imagination among the creators of these [original] shows, making them both a poor business decision and a poor entertainment decision," Audi said. This unoriginality is now becoming the norm among TV shows. Leiva said, "[Producers] just don't want to present [new ideas] yet or they are not ready to be presented yet; they're still fermenting in someone's brain."
When carried out well, reboots can outshine and outperform their original shows, inspiring original stories that will in turn influence an entirely new generation. Unfortunately, it remains yet to be seen if producers will develop original content or if they are, as Mendoza said, "just too lazy to look for it."
Featured images courtesy of IMDb (from L to R: Will & Grace, Fuller House, Star Trek: Discovery, The X-Files, Twin Peaks)