Swim and Dive falls to Churchill in tough loss
Hang on for a minute...we're trying to find some more stories you might like.
With the end of the swim season approaching, the RM boys and girls swim team looked to add another win under their belt before going into divisionals. However, their opponents, the formidable Churchill Bulldogs, went into Saturday's meet with the same mindset. Despite their high hopes, the team ended up taking a heavy loss, 232-136.
Having missed the last meet, many of the girls felt rusty, struggling to place within the top or three in each event. Although there were occasional breakthroughs such as when sophomore Sophia Wang managed to place first for the 100 yard breaststroke and second for the hundred yard butterfly, the majority of events saw Churchills girls consistently placing higher than RM. Unable to gain enough momentum, and with Churchill winning more and more of their events, the girls fell behind quickly and the Bulldogs took a decisive victory 131 to 54.
Going into the meet, both RM boys and Churchill boys had undefeated records making this meet extremely important and nerve racking. Both teams had many great swims and the leaderboards for most events had both RM swimmers and Churchill swimmers place in the top spots. Unfortunately, Churchill managed to earn more points in their events by just a little and won by a narrow margin of 101 to 82.
"It was a really tight meet and we put in a good effort but unfortunately Churchill just out-touched us on a few races," said senior Shoham Ghosh, "both teams were pretty evenly matched and when races are this close it really comes down to nailing the turns and being better rested."
The team chalked up their loss to a combination of misfortune and just plain skill from Churchill.  "Churchill has an amazing girls team," explained sophomore Elizabeth Mao, "it was a really tough match and that combined with the fact that we weren't on our best day really resulted in our loss."
Despite the tough loss, the Rockets took this meet as a learning experience as they plan to grow stronger and train harder from their upcoming meet as well as divisionals. "After this meet I think we need to focus on fine tuning dives, flip turns, and relay transitions because those were the key reasons we lost today," said Ghosh.
"We need to focus more during our practices, in general just working harder and spending every second of practice improving," added sophomore Nam Lam.
Disappointed, but not discouraged, the team heads into divisional looking to have a strong showing.
Featured photo by Victoria Carter
About the Writer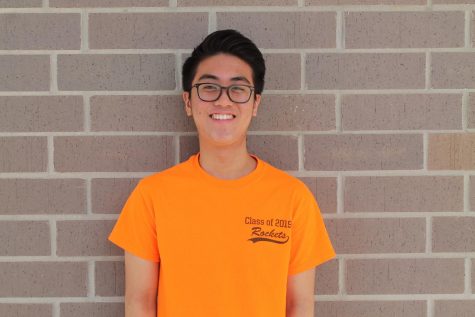 Orrin Ni, Sports Editor
Orrin Ni is one of the three co-editors for the sports section. This is his second year as an editor, and his fourth year writing for The Tide. Whether...