RM Chorus sings in Italy
This past June, while most RM students were off traveling, working, and enjoying their summer break, RM Chorus took a special trip to Italy to explore the home of classical music and enhance their musical experience. They performed in Florence, Venice, Rome, and the Vatican City with the help of Mr. Cauvoti, the director of music at Christ Episcopal Church. Mr. Cauvoti organized the trip for the RM students and composed one of their pieces. Additionally, Dr. Randall Stroope, a renowned American composer, organized a large concert St. Peter's Basilica in the Vatican for over 200 students from all over the world who sang religious Latin pieces as well as classical pieces composed and directed by himself.
For many students, the highlight of the trip was performing in Vatican City's St. Peter's Basilica, the largest Catholic Church in the world. Junior Gillian Smith said that performing Mr. Cauvoti's piece in the St. Peter's Basilica was the most rewarding experience for her: "It was so amazing to hear his music being performed in a place like that. When we sang it in St. Peter's Basilica, he teared up,  I think that was the most emotionally rewarding part of the trip for me, bringing him that joy," Smith said.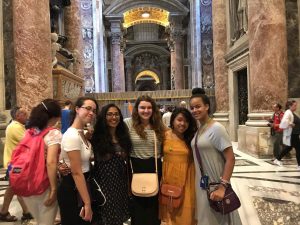 Senior Andrew Spencer said, "I liked being able to perform for people and just all get together and sing our parts." For him, this choral tour was a more rewarding experience than a normal chorus class because of the diversity and unity that existed throughout the trip: "It sort of made me realize that we are all unified by music and music is a global thing. You don't have to speak the same language as somebody to communicate through song," he said.
Another unique aspect of the trip was the exposure to the history and architecture of a country famous for its art and music.  Smith said, "I learned a lot about Italian history and Italian renaissance art. Learning about the specific history of individual cities was awesome."
Another benefit was that students could also experience different acoustics when performing in different churches. "I learned how to become a better singer, better techniques, and how to sing in a really big choir," junior Liz Sharp said.
The trip was filled with sightseeing in addition to performing. Students visited the Colosseum, art museums, churches, ancient castles, and  the dungeons of Venice. They also tried  food from all across Italy. "While touring like this, we learn history, make new relationships, and learn from all kinds of interesting people. It's an enriching experience to bond with those in another country through a shared passion for music," Smith said.
Photos courtesy of Gillian Smith