RM football crushes rival Rockville 49-8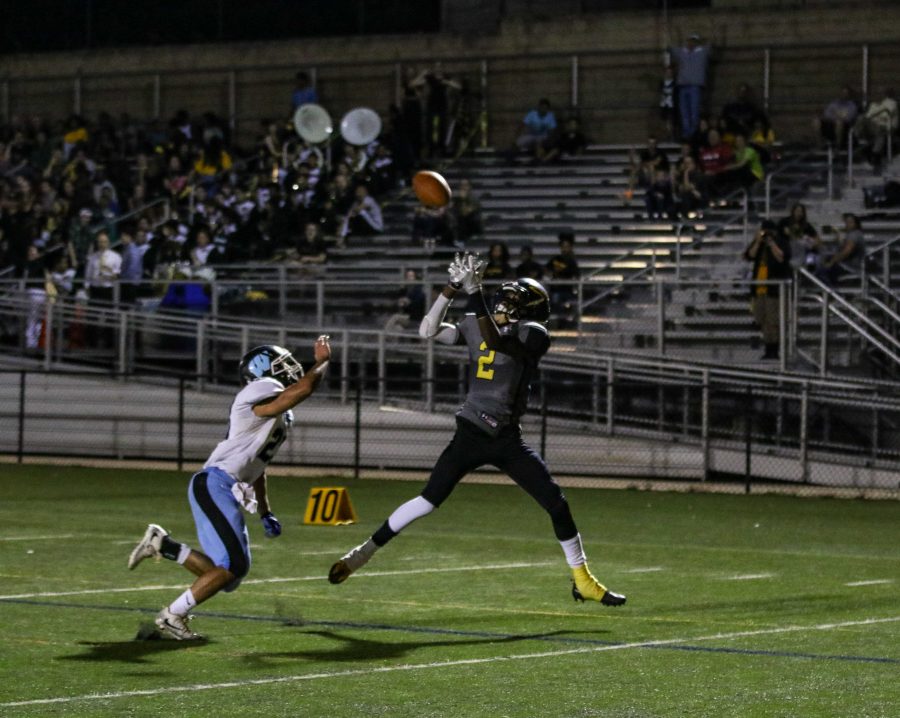 Andy Zabinski
October 30, 2017
There is one rivalry across all of Montgomery County that manages to outshine the rest when football season rolls around each year–RM versus Rockville.
The game began with a 20-yard kick return which put the Rockets on the 30 yard line. The second play of the game, senior quarterback Spencer Silverstein delivered a pass to wide receiver Daryn Alexander for a nearly 70-yard run and a touchdown. This set the precedent for the rest of the night–RM would completely destroy the Ram defense.
A Rockville fumble was recovered by defensive end Trayvon Parsons, who would return it for a touchdown and make the game 14-0 just two minutes into the first quarter.
After stopping Rockville's offense again and forcing them to punt, RM made long drive down the field that was capped by a running play from Silverstein.
On the Ram's next run, the RM defense recovered another fumble that put them in good position to score once more. However, Rockville managed to stop them despite numerous running attempts from running back Zion Tyler.
RM grew complacent, resulting in several missed opportunities and back-and-forth possession.
The next Rockville drive was slow and gradual, completed by a touchdown from Antonio Villatoro. The field goal was missed, leaving the score 21-6.
It was a slap in the face to the Rockets–they needed to get their heads back in the game. RM made a 30-yard return after the Rams kickoff, and that same drive, Tyler scored on a running play that put the Rockets up 28-6.
Not only the offense would contribute to racking up points on the scoreboard that night. Safety Kaden Hoffman scored after making an interception, putting the Rockets up 47-6 after two touchdowns from Silverstein.
Following the RM Hall of Fame inductions, the marching band performance, and poms dance at halftime, the Rockets took the field in high spirits.
The Rocket coaching staff, led by head coach Josh Klotz, opted to substitute in the 2nd and 3rd lines to give their starters a break.
The remainder of the game was scoreless, with each team neutralizing the other, and would end 49-8.
The Rockets excelled offensively throughout the game, led by great passing from Silverstein and strong defense. "Our offense was really productive, [however] our defense gave up some yards," said wide receiver Hunter Arbeeny.
Rockville's lack of defensive strength allowed the Rockets to practice more plays in preparation for their game against the Montgomery Blair Blazers this upcoming Friday. "Their secondary gave us the option to pass the ball more," Arbeeny said.
Blair, who is 6-2, will prove to be a hard matchup for the Rockets. "We want to keep it simple, and pass a little bit, but run the ball a lot," Arbeeny continued.
This game could be crucial in making the playoffs, as RM is only one game behind the Northwest Jaguars and tied with the Wootton Patriots.
Featured photo by the Tide Photos