Volleyball defeats Wheaton for a crucial win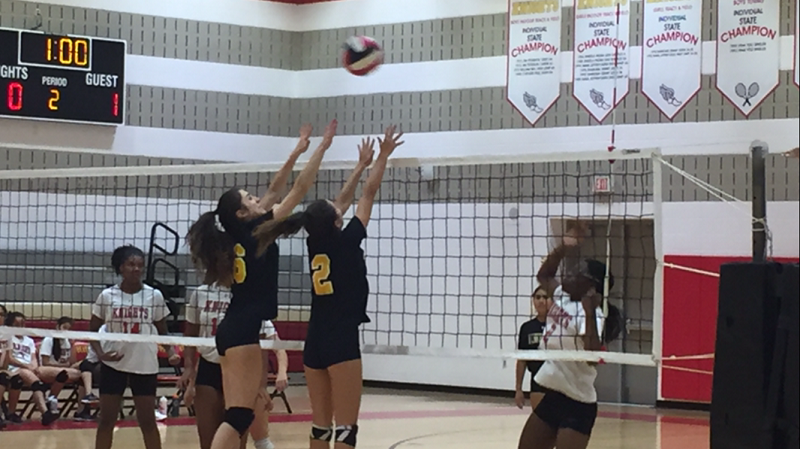 Jack Yang
October 20, 2017
On Tuesday, October 17th, the RM girls varsity volleyball team went up against the Wheaton Knights in a critical away game. The girls handily defeated the Knights three sets to none, earning a much needed win.
Both teams came out fighting in the first set, rallying back and forth. Midway through the set, the score was tight, 14-10 in favor of the Rockets. However, the girls managed to pull ahead, closing the first set 25-15
The team seemed to have gained some confidence between the first and second set, as they shot up to a 7-0 lead in the second set off of some great serves and hits. Despite the Knights' best efforts, they couldn't score reliably on the Rockets. "Wheaton rallied with us," said coach Gretchen Barber-Strunk. "They just didn't have any really big hitters."
The Knights called a timeout to try and recover. After the timeout, a series of serving and receiving errors from both sides brought the game to 11-3 in favor of the Rockets. "We definitely need to have a more consistent serving game and get our serves in," reflected senior Brooke Richman.
However, the Rockets regained their momentum, hitting a few consecutive aces to bring the score to 17-4. Despite a few errors from the Rockets, they were able to convincingly close out the set, 25-9.
The third set got off to a rocky start, with both teams making a couple of serving errors. The Rockets, again, were able to grab the lead due to the lack of aggression from the Knights. Down once again 13-5, the Knights decided to take a timeout.
The girls seemed to be much more comfortable on the court. During the break, they were smiling and joking around, looking relaxed. This light-heartedness seemed to boost the girls' morales, and they managed to take the third set 25-12.
Looking back on the game, coach Barber-Strunk said, "This game was good in that I think it'll be a confidence booster going into the rest of the season. They've played a tough schedule, so this was kind of a nice break for them, me as well."
The Rockets are looking to keep this momentum as they face Gaithersburg High School away on next Tuesday.
Featured photo by Jack Yang.