Students show their singing talent at RM Idol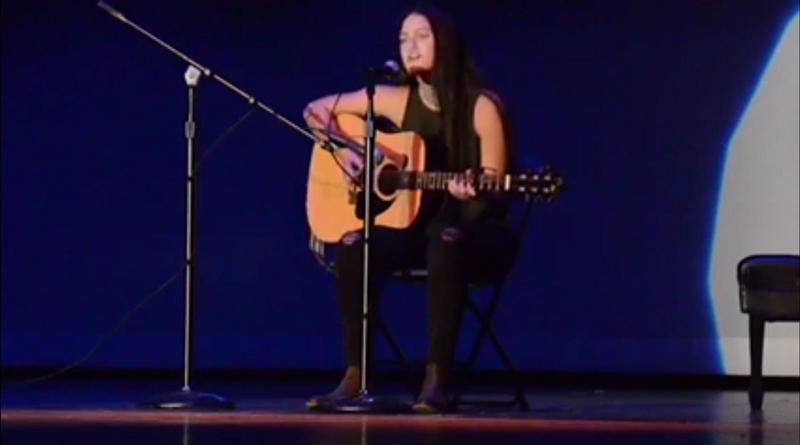 The beginning of the holiday season at RM was welcomed by the long-standing tradition of RM Idol. On December 2, contestants competed in the singing competition, which is organized annually by Fine Lines as the main fundraiser for their award-winning literary magazine.
The relaxing night started out as the two MCs, wearing cozy red and blue onesies, stepped on stage and introduced the show. The crowd listened intently as the performances began.
Senior Claire Wilson did not hold back any of her talent when it was her time to perform. Her confident voice radiated through the room as she stepped forward and danced to "Dark Side," by Kelly Clarkson.
Sophomore Nyrene Johnson's melodic and powerful voice won a wave of applause, as she sang the classic song "Ave Maria." The audience members continued expressing their support for her and shouted with excitement during the climax of the song.
"I think that I did better because my friends were here to support me. RM Idol is such a great opportunity for kids in high school, period. I feel like the whole experience is just so great, like it's not overwhelming," Johnson said.
The audience especially enjoyed performances of well-known songs, including junior CJ Cruz's "Photograph," by Ed Sheeran, junior Shannon Walker's "Stole the Show," by Kygo, and freshman RJ Panehal's "Don't Let Me Down," by The Chainsmokers. Although Panehal was the only freshman contestant, he was not daunted by his first performance at RM Idol.
"It was a great experience and there was a good crowd. The people who were involved but didn't perform were great supporters. I wasn't totally happy with my performance, but everyone always has their off days. But, I still have a couple of years and I'm definitely gonna do it again," Panehal said.
During intermission, the judges expressed their thoughts on the performances. "I've been stunned by the quality of the performances, I think it's gonna be a pretty hard decision. The soulfulness of this year's group has been really excellent," history teacher Todd Stillman commented.
Throughout the evening, the performances continued to impress. Senior Henri Mandidze showed his talent in composing. He wrote his own rap, "Contemplations" and presented a different genre of music to the audience. Although his performance was interrupted by technical difficulties, he carried on calmly and earned the respect of the audience.
Many other contestants displayed their talent in playing musical instruments. Senior Maddie Cheng sang and played piano during her performance of "When I was Your Man," and even played guitar during senior Jisue Gonzales' beautiful song "She Will Be Loved," by Maroon 5.
Senior Jennifer Fei's performance of "Jackie and Wilson" and junior Starr Stover's rendition of "Rise Up" were particularly enjoyed by senior Jeanie Choe.
"I really liked Jennifer Fei's and Starr's, because I like listening to people sing songs that aren't really mainstream, which makes them all the more interesting for me to listen to," Choe said.
Songs such as junior Bianca Agung's "Hoops," sophomore Camron Franklin's "Lead Me," and Sara Reilly's "Waiting on the World to Change" were catchy songs that especially caught the attention of the audience. Similarly. Jose Luque's "Wish You Were," Summer Oh's "I Will Survive," and Isabel Leiva's "Glitter in the Air," won great applause.
The crowd waited in anticipation as the top three winners were announced. Third place went to senior Jennifer Fei, who sang "Jackie and Wilson." Second place went to junior Amy Molina, who performed "Not Today" with a strong, yet angelic voice. The first prize went to the talented senior Gaby Phillips, who played guitar and sang a beautiful acoustic version of "I Wanna Dance With Somebody," by Whitney Houston.
After winning RM Idol, Phillips shared her experience with singing and music. "I think that both this year's and last year's RM Idol were amazing. I feel so grateful that I had the opportunity to be a part of both, since they both had such talented individuals, and it was so fun to meet new people and share the experience with them," Phillips said.
Unfortunately, only 18 out of the original 20 contestants were able to attend. However, the audience really enjoyed the event, including the songs from Fine Liner editors Tanya Syarnubi, Layali Al-jirafi, and Nick Hopwood, who performed during judge deliberation.
"When one of the editors Layali sang, her voice made me feel like I was like being wrapped in a hug. But the hug felt kinda sad to me. It was the weirdest thing, but her voice is so nice," freshman Kaylen Pak said. "If she competed, I think she could've won. Everyone should definitely go next year. It's such an experience, I have like four new queens!"
The talented, hard-working singers and the organizers of RM Idol allowed for an enjoyable and memorable night. "There was a bunch of talent, all in one room. It was very nice — a good community," Syarnubi said.
About the Writer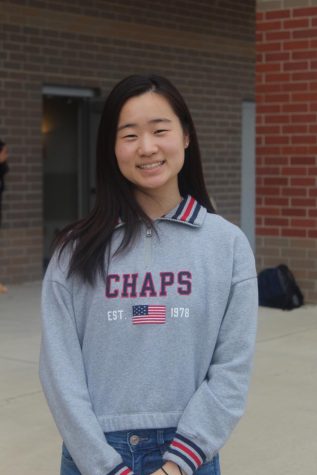 Angela Mu, Design Editor
Angela Mu is excited to be the Design editor this year. She has written for the Tide throughout all four years of high school and has served as the Tide's...