A second win for Gaby Phillips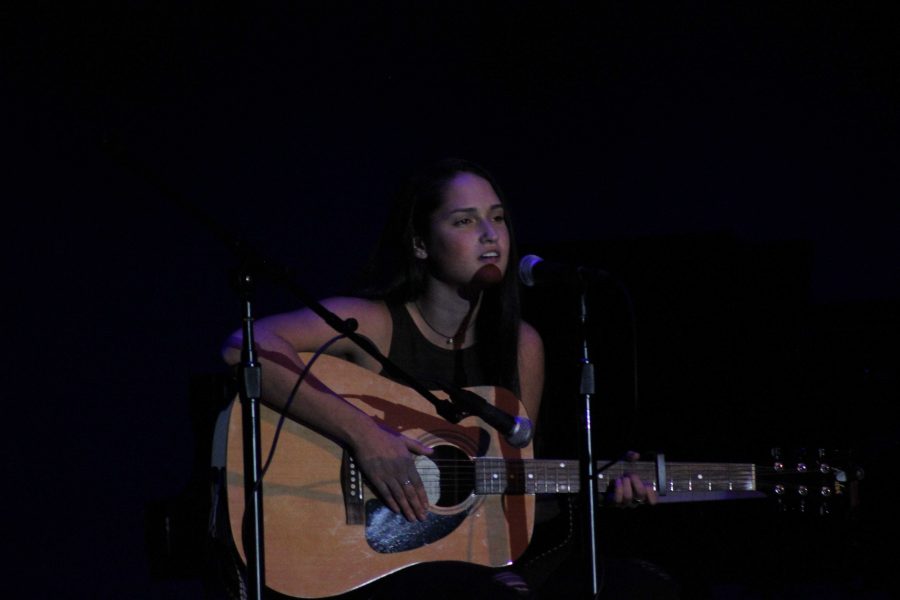 Natalie Chartove
December 12, 2016
On Friday, December 2nd, Gaby Phillips was crowned the winner of RM Idol. After winning second place last year, Phillips was ready to take the stage again for her last chance to perform in the competition. Now, as a senior, Phillips has finally won the title, but how did she get there?
Phillips became interested in music through her older brother, who also won RM Idol as a senior. As she entered high school, she started learning how to play the guitar from youtube videos online. However Phillips' singing career has just begun. "I didn't sing in front of anyone until junior year RM Idol last year," she laughed.
For Phillips, singing last year was a huge step in overcoming her fears. "Last year I was so nervous…I was like "What happens if I do this? What happens if I mess up?"" Phillips said. This year, however, Philips was more relaxed on stage and prepared to conquer her nerves.
"I still get nervous before anything that I do…I'm just an anxious person, but this year it was definitely easier to perform because I had done it last year and I knew that I was capable of doing it without messing up," Phillips remarked. "I guess just the confidence level I had was different, and I had a little more fun with it" Phillips noted, showing how much she had grown since the last time she performed.
This time around, Phillips felt comfortable being more adventurous with her performance. She chose to sing "I Wanna Dance With Somebody" by Whitney Houston, whom she said was, "one of the best female singers of all time." After having already gone through the process once already, she had the confidence to tackle this song.
RM Idol is more than just a competition for Philips. After she stopped playing basketball at RM, Phillips no longer had an outlet or a way to participate in the community. "RM Idol gave me a new opportunity," Philips said. Philips pointed out that at RM sports receive more attention than music but, "RM Idol is a bigger event that people come to and actually give appreciation to the really great singers at this school."
Phillips admitted, "I wasn't expecting to win at all," because of all the other talented singers competing, but was just "grateful that I had the opportunity to do it." And while she was not participating for recognition, she was excited to win and receive an iTunes gift card as a prize.
"I think it can help bring people together," said Philips, giving her philosophy on music. For her, RM Idol is an opportunity to do what she loves and make others happy. "Music just really makes me happy" Phillips reflected, and, "I'm just happy that I got to sing in front of people and hopefully make them happy." For her, having fun and enjoying her last year at RM were the most important part of the night.
Since learning how to play the guitar just a few years ago, Phillips has discovered a lasting passion for music. "She just puts so much emotion into everything she does. The way that she plays the guitar and sings is just transporting," RM Idol judge Mr. Todd Stillman said, reminiscing about the several times he had heard her sing. Clearly, the audience loves her music as much as she does.
Featured photo by Maddie Franke.