Girls volleyball fights against Coyotes, and breast cancer
On Tuesday, October 20, the RM girls volleyball team improved to 7-4 on the season with a tight four set win over Clarksburg.
The girls started out strong, taking the first set 25-12. Yet in the second set, the Coyotes responded with a couple blazing serves and capitalized on several uncharacteristic mistakes from the Rocket's hitters to take it 25-23.
With the momentum in their hands, the Coyotes relentlessly attacked the ball, spiking kill after kill into the open court. By double set point, Coach Barber-Strunk knew the team needed to regroup and called a timeout. "I told them that you have to play to win," she emphasized, "you can't play like you've already been defeated. In order to win, you need the mindset of a winner."
As they broke out of the huddle, the girls faces were filled with new resolve. "Coach Gretchen's words really helped us regain our confidence," said senior Pin-Hsuan Wu, co-captain. "I knew we could win, we just needed to reflect it in our play."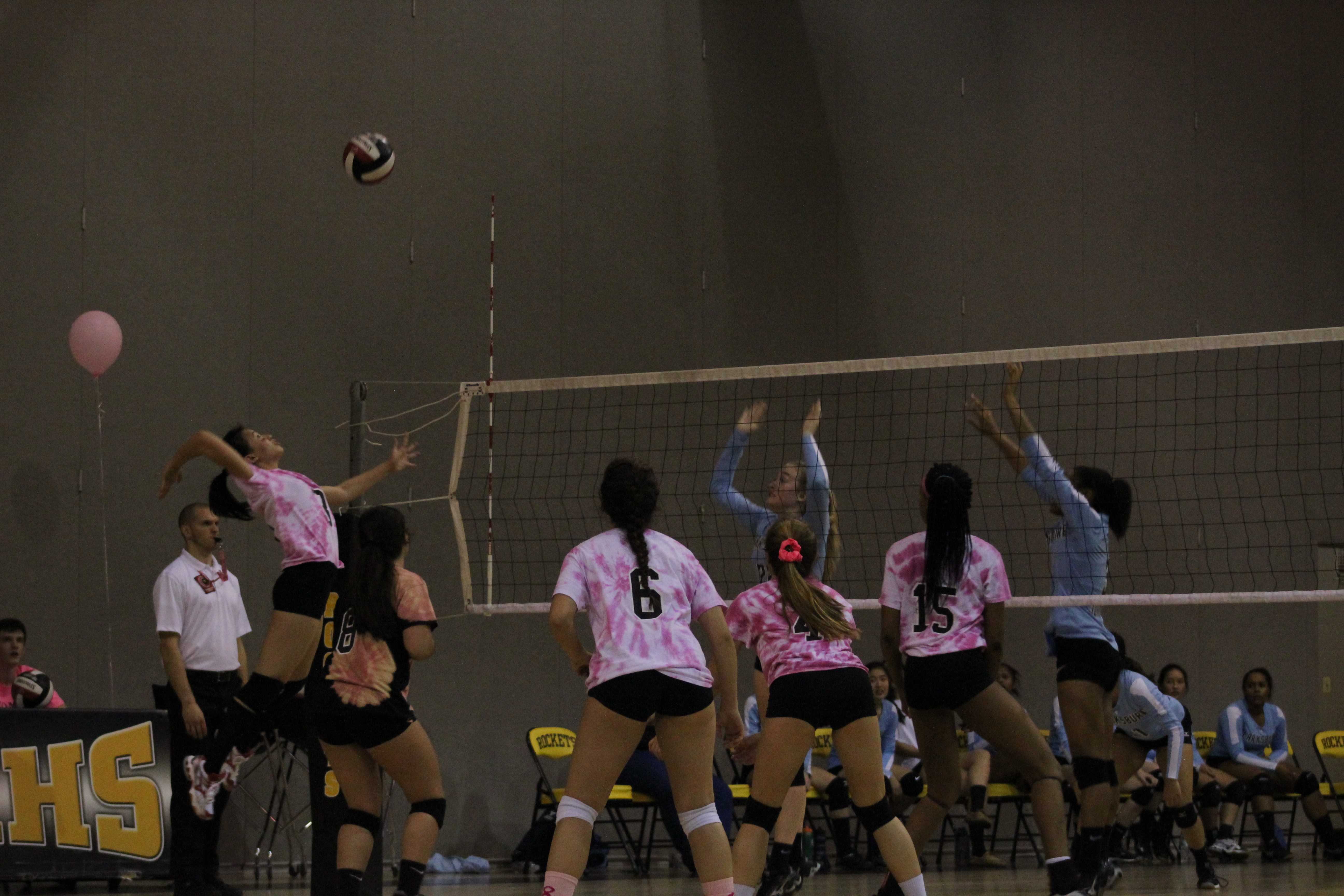 Preceding to take four straight points in a row, the girls dug deep and took the set 26-24. By the fourth set, spirits were running high and the always supportive home crowd cheered the girls to another decisive 25-12 set, and ultimately, the win.
Now with several consecutive wins and only three games left in the season, the girls are looking to finish strong and carry their momentum over to playoffs. Coach Barber-Strunk, expressing her confidence, said, "I hope this will give them a good drive heading into playoffs. Based on their talent and hardwork, I really think we will go far."
In the face of growing pressures, the team is determined to succeed, relying on every member to do so. "I'll try to not disappoint!" Wu joked about Coach Barber-Strunk's comments. "We all believe in the strength of our teammates."
Yet, the players celebrated more than just their win over Clarksburg. Clad in pink, even outside the court they continued to raise support for the fight against breast cancer. Manning concession stands and peddling all kinds of novelties, they worked hard to raise money for the cause. "Tonight was more about breast cancer than anything. It was definitely on my mind throughout the game," stated Wu.
An important home game for the girls, the win represented a morale boost, but also a way to garner support for an alarming issue. The Rockets fought their way to victory, struggling yet enjoying every step of the way.
Featured photo by Maddie Franke.