The Richard Montgomery girls varsity tennis team continued their winning streak on Friday with a 6-1 win over the Bethesda-Chevy Chase Barons. Taking place in hot and humid conditions, the match featured several grueling three-set matches and amazing comebacks from the Rockets as they managed to outlast their competitors.
The toughest and longest match of the day was fought by the first doubles team, consisting of sophomore Shefei Jiang and junior Isabelle Zhou. After winning a tough first set with a close score of 7-5, the pair lost some momentum as the Barons surged ahead to win the second set 4-6. However, Jiang and Zhou were able to up their game in the third set despite the heat and their fatigue to finally overwhelm the Barons at 7-5.
"Three set matches are always hard, and we were definitely really tired in the last few games. It was challenging but I think we played well," said Jiang. Zhou added, "It was a good experience, and like Coach Fahrner says, the last point was the hardest. Though I'm glad we won, the game was a long one and I'm glad our work paid off."
Another long match was won by third singles and freshman Diana Levet. Despite having lost the first set 3-6, Levet did not give in to frustration or nerves and stunned her opponent with an impressive comeback of 7-6 in the second set. A tiebreaker rather than a third set decided the winner of the match, and Levet easily dominated with a win of 7-2.
Story continues below advertisement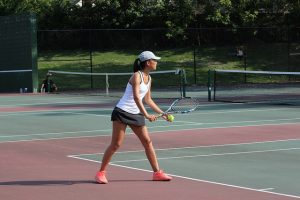 Captain and senior Varsha Ramachandran and fellow senior Grace Song also managed a comeback at second doubles. After crushing the Barons 6-1 in the first set, the pair suddenly found themselves down 3-5 with the opposing team about to take the second set. However, Ramachandran and Song refused to bow to the pressure and managed to win the next four games in a row to take the second set 7-5.
"It's nice to win because it solidifies our standing in Division I," commented Ramachandran. Last season, it was partly due to the Rockets' 4-3 win over BCC that caused them to fall from Division I to Division II. Despite the school's current Division II status, the Barons still presented a formidable challenge that the Rockets were nevertheless able to overcome.
"We were really nervous at the beginning because it was BCC we were playing, but it got a lot easier once we figured out their weaknesses and stayed focused," explained freshman and third doubles player Katie Kolodner. Kolodner and her partner, senior Grace Lee, easily won their match 6-3, 6-0.
Other wins also included junior and first singles Ana-Maria Escudero with a score of 6-2, 6-4 and captain and senior Michelle Dubovitsky with a score of 6-4, 6-1 at fourth singles.
The team's next match is against Walter Johnson, another school that fell from Division I to Division II partly due to the efforts of the Rockets. Come support the RM girls tennis team at Walter Johnson's courts on Tuesday, September 13.