Girls tennis serves up first win of the season in opening match against QO Cougars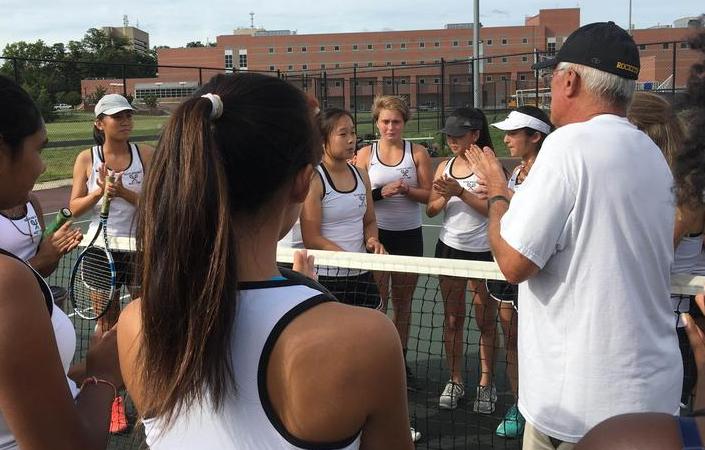 Ryan Choi
September 3, 2016
With clear skies and a bit of wind, the D1 RM girls tennis team kicked off the season with a win against the Quince Orchard Cougars. When asked about what he thought of the outcome of today's match, girls team manager and sophomore Matt Kolodner, replied, "It's gonna be easy. We're gonna destroy them." It's safe to say that they did.
With a racing start, first singles player Ana Maria Escudero powered through the first three games of her set in just 15 minutes. The large crowd of gathered fans cheered as RM players followed Ana's example and dominated the play from the very beginning of their matches. To build upon the fans' energy and enthusiasm, sophomore and second singles player Piper Feldman finished her first set at 3:43, a mere 13 minutes after the start of the match.
The first win of the day came from new third singles player, Diana Levet, when her efforts were rewarded with a straightforward win of 6-0, 6-0 over her opponent. Following Diana's win, the other RM players soon followed suit, with most of the Rockets' matches having no serious complications.
Midway through the girls' matches, Chris Barber, the QO tennis team coach, remarked about what he thought of the QO team's going into today's match: "They're doing well as a team. We've been working hard for the past three weeks, but we're playing a D1 team a couple notches above us." All of the matches ended in a sure RM victory, with QO's efforts, unfortunately, being overshadowed.
Following the end of her match, Escudero voiced the uneasiness she felt during her match as well as her love for the team. "I got into the court and played my best for me and for my team. I was a little nervous because it was the first match but I got more confidence into it." For Escudero, "being with [her] teammates and sharing everyone with them" was the best part of today's match, a testament to her own integrity and loyalty to the team.
The new captains this year, seniors Michelle Dubovitsky and Varsha Ramachandran, expressed extreme contentment with the performance of each player, both on and off the court. The players were supportive of each other throughout the matches, and Ramachandran's desire for today's match, "to get people hyped up for [their] first game and to let them see what it's like to meet other players" was fulfilled. "[Michelle and Varsha] are really good captains and they help us as a team. We're lucky to have them," Escudero also remarked.
Throughout the matches, the RM girls tennis coach, the well-known Fahrner, was watching on. He emphasized how great of a team he has this season, with incredible captains to lead them to victory. His prospects for this season, just as before, are to claim the Division 1 title for Richard Montgomery High School.
"We've got some great captains this year as usual for RM. And it is what it should be: girl captains leading a girl society. And not at all today was I hesitant about the outcome. But we've got these teams called Whitman, Wootton, Churchill, and they're coming up. The big Ws are coming up and we've been called 'Wichard Montgomery' these past few years, so let's get it on," he asserted.
For clarification, the "W schools" Fahrner refers to are Wootton, Walt Whitman, Walter Johnson, and Winston Churchill. They are schools that are notorious for their adept tennis teams. However, the Richard Montgomery tennis teams have been able to get a few wins off these teams in recent years.
Fahrner was more than satisfied with how the team played and encouraged the girls to practice hard and have fun following the end of the match. "I guarantee you we will play hard. I guarantee you that we will play smart. And I guarantee you that we will have fun," Fahrner stated.
The unity of the team was evident as the girls shared a team cheer that will be sure to echo throughout their next matches. Their next match will be against the Rockville Rams at Wood Middle School on September 6.