RM boys varsity basketball bounces back in victory over Springbrook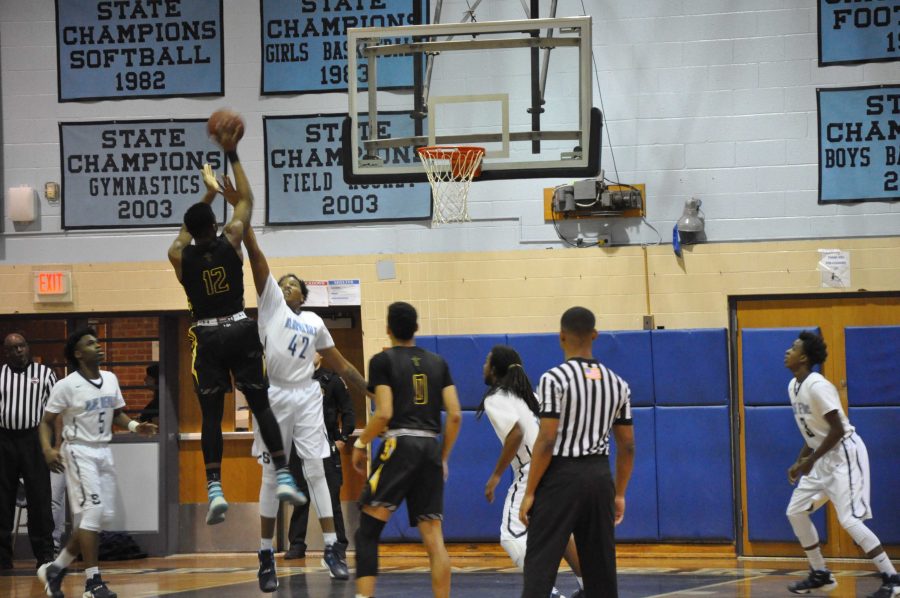 Andy Kostka
February 19, 2016
The Richard Montgomery varsity boys basketball team bounced back on Friday night with a 68-56 victory over Springbrook. The final score, the 12-point lead being the largest of the night, does not account for the tight first half between the teams. RM will look to begin another long winning streak after their 13-game unbeaten stretch was ended on Wednesday in double overtime, 66-65, by Whitman.
Springbrook matched RM's speed for the first quarter, and finished the first quarter up by one point, 17- 16. Despite a slow start to the second quarter, the Rockets had a four-point cushion at the half, 33-29, aided by a series of turnovers by the Blue Devils to close the half.
RM lived under the basket for the entirety of the game. Uncharacteristically, the Rockets finally hit their first three-pointer in the third quarter, and only scored one more three after that. Senior center Tolu Baiyeshea made up for the outside shooting drought with 11 first half points.
The second half brought with it an increase in defensive intensity, especially on the full-court press. Seniors Julian Watson and Julian Stover in particular forced a number of turnovers. Watson finished with 9 points, and Stover had 12. Also, sophomore Daryn Alexander had 10 points.
"As we spoke during halftime, the coaches were a huge help reminding us that this game wouldn't be handed to us," Watson said. "Them prompting us to make the adjustments we needed to focus on was what really had us concentrated coming out. It was mentioned before we left that we wouldn't come back to the same locker room two years in a row losing, and from that the intensity and aggressiveness came through." RM lost to Springbrook the year before, 43-40.
Senior Daniel Alexander led the Rockets in scoring with 14 points. After RM's 13-game winning streak was ended by Whitman, Alexander was determined to not let the season unravel. "We felt like we had to brush that lost off our shoulders like the other ones, and I think we bounced back perfectly," Daniel Alexander said. "We had to play tough and get after the ball more in order to get a 'TEAM' win."
With Friday night's victory over Springbrook, the Rockets become 16-4, and remain in the lead of 4A/3A South. "We just don't like that losing feeling so we do everything in our power to not lose any games back-to-back," Daniel Alexander said.
Richard Montgomery will play their Senior Night game on Monday at 5:30 at Northwood High School.