RM boys swim and dive team take 1st place victory at regionals meet, girls fall short with 4th place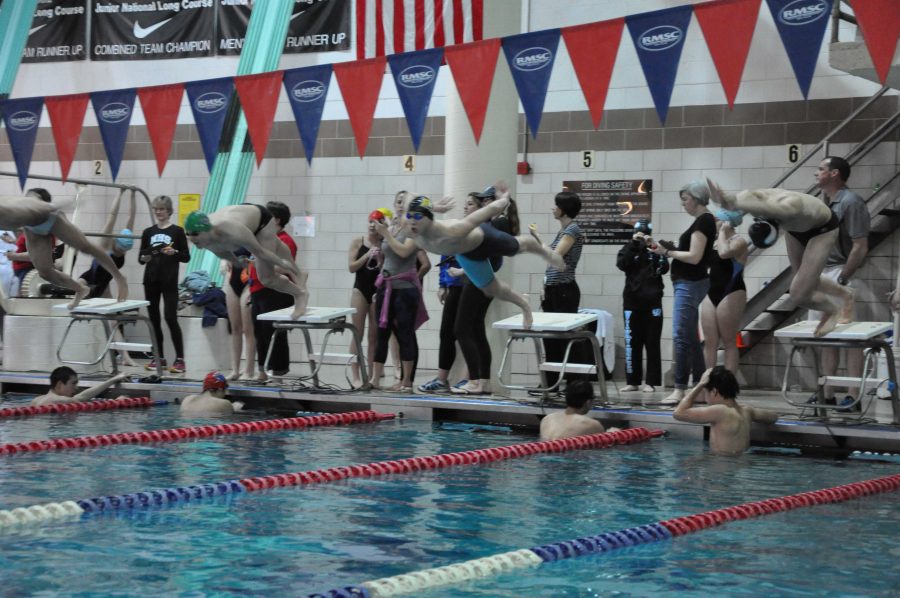 Irene Park
February 16, 2016
With the post-season rapidly coming to a close, the Richard Montgomery Swim and Dive team made sure to take advantage of their penultimate meet of the year, making a statement at Regionals this past week. The boys took home a win by 78.5 points, while the girls took fourth, just 50 points shy of placing in the top three.
RM competed against 12 other schools in the 4A/3A West Region, including fellow Division I rivals Churchill, B-CC, Walter Johnson, and Whitman. They were joined by other power teams such as Northwest and Wootton, who both dominated Division II this season.
On Thursday evening, divers gathered at the Kennedy Shriver Aquatic Center. Sophomore Ian McBain captured sixth place, while junior Kamryn Umbel finished in second with a grand total of 404.40 points. Umbel thus qualified to move on to States, which will be held next weekend.
Two days later, the top two swimmers in each event filed onto the pool deck at the Martin Luther King, Jr. Aquatic Center. Though it was not nearly as much of a competitive atmosphere as Metros had been the weekend prior, the Rockets were eager to take home yet another win.
Sure enough, the boys 200 medley relay (juniors Matt Nguyen, Kenny and Greg Afolabi-Brown, and senior Bouke Edskes) set a regional record, breaking the record set by RM just last year by almost a full second. Kenny Afolabi-Brown set an individual regional record as well in the 50 freestyle, just managing to speed past the three-year-old record by 0.01. Edskes was again a four-for-four winner, stealing the overall first place spot for boys' individual high point.
The boys 200 freestyle relay (both Afolabi-Browns, Edskes, and junior Simon Li) finished in first place as well, and the girls 200 freestyle relay (juniors Grace Sun and Kellie Zhang, and seniors Kelsy Song and Audrey Richter) took second.
"We had a lot of tough competition, but the team worked hard to support everyone and swim for each other rather than just for themselves," said sophomore Michelle Li. "We even had some teammates who didn't swim who showed up to show their support."
The top six event finishers in each of the five Maryland regions will qualify to swim at States next weekend at the University of Maryland Eppley Aquatic Center. After every swimmer in the state who swam Regionals has been seeded, the next top ten swimmers in each event overall (regardless of region) will also qualify to swim at States.
The boys have their eyes set on the 2016 States title, something that is not quite as far of a reach as it sounds for this year's group of swimmers. According to coach Aryn Wheeler, if there ever was a year to do it, this would be the year. "They're a very close-knit group of boys. They get along great," she said. "They're full of energy, I always see them cheering and having a good time. And really, really fast. Full of talent this year."