RM Swim and Dive boys team takes 3rd at Metros meet, 1st out of public schools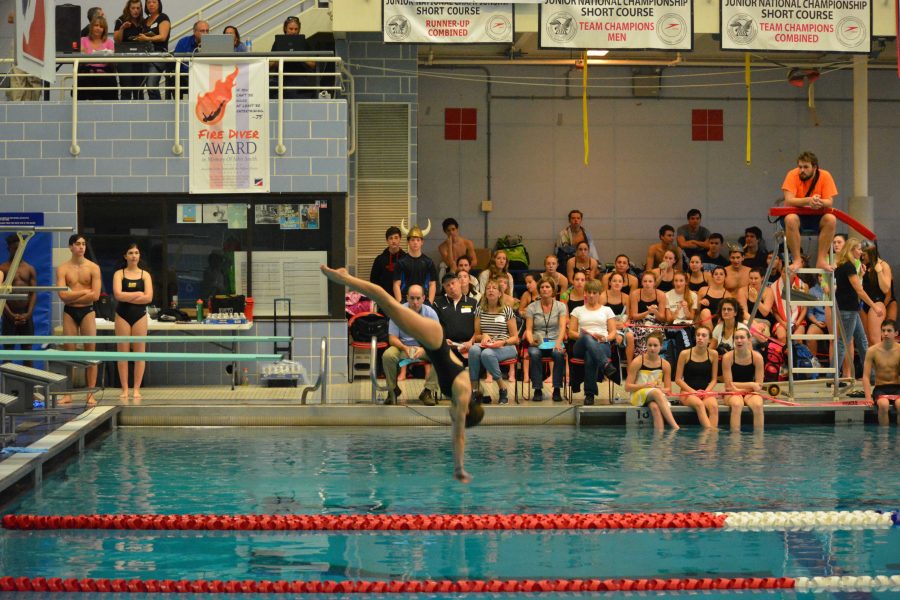 Irene Park
February 8, 2016
Metros.
To any other person in the world, this word has absolutely no meaning whatsoever. But for swimmers and divers in the D.C. area, the Washington Metropolitan Interscholastic Swim & Dive Championships is arguably the most important meet in all of high school swimming, possibly even all of swimming itself.
Every year, the region's top swimmers and divers strive for qualifying cuts for this prestigious meet, then compete in a highly competitive atmosphere complete with $500 elite performance swimsuits, national team members, college recruiters, and in past years, an Olympic gold medalist and world record holder.
This year, Richard Montgomery's boys had high hopes for Metros. The boys side of the meet had long been dominated by private schools such as Gonzaga and Georgetown Prep, stirring up a bitter private-public school rivalry between top teams. Gonzaga in particular has been rather notorious throughout RM for their year-by-year first place finishes and for placing their team banner high above all the others at the pool, as if asserting their power. As RM swim alumnus Graham Walker put it, it was time to finally take "the throne away from [Gonzaga]."
RM didn't quite manage to steal the spotlight in the way they had intended, but nevertheless performed phenomenally at Metros this weekend. The girls placed 11th out of 37 teams, and the boys took third out of 31 and first from all participating public schools.
Starting with the divers on Thursday and Friday night, RM put on an amazing showing. Sophomore Ian McBain took seventh while junior Kamryn Umbel took fifth, each managing to qualify through the various stages until finals and score a good number of points toward the overall team score.
As for swimming, the top 20 finishers in each event at prelims would have the opportunity to return for an evening finals session that would be scored for points. RM took seven girls' swims to finals, as well as 18 from the boys. At finals, senior Bouke Edskes snatched first place in the 200 individual medley, a feat very difficult to accomplish, to say the least.
All three relays for both the girls and the boys made finals, where they then swam to season best times. In fact, the boys 200 medley relay (juniors Matt Nguyen, Kenny and Greg Afolabi-Brown, and senior Bouke Edskes) and 200 freestyle relay (Edskes, both Afolabi-Brown brothers, and junior Simon Li) set new MCPS records.
However, an unfortunate disqualification by Kenny Afolabi-Brown in the 100 breaststroke was a bitter disappointment to many of the Rockets. His time of 57.65 would have taken fifth place and added an extra 18 points to the boys' score. Afolabi-Brown later posted in the team's Facebook group: "Just wanted to apologize for my swim tonight, boys. I let you guys down and I'm sorry. Overall, we had a good meet and I'm proud to have swum with all of you, both boys and girls. #rocketpride".
His post was flooded with comments telling him that it was totally okay, that there were no hard feelings, that he did amazing anyway, and that they would make up for it at Regionals and States. Each commenter echoed his hashtag #rocketpride.
"My favorite thing about the team is the amount of support and mutual respect for each other," Nguyen had said prior to Metros. His words remain unmistakably true.