Rockets boys swimming sweep the competition but girls come up short in dual meet against Blair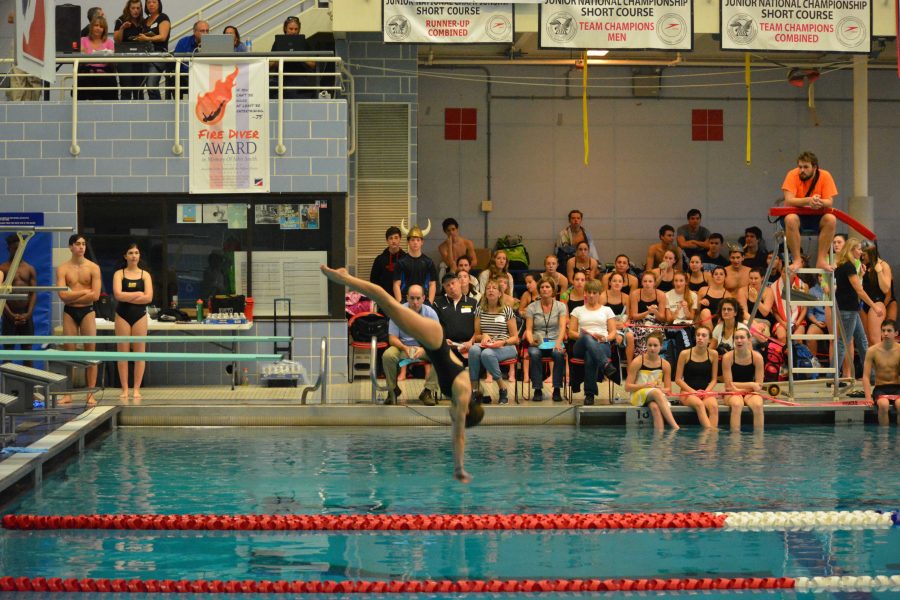 Irene Park
January 17, 2016
It is not unusual for the Richard Montgomery boys to speed past their competition and face victory. What is unusual, however, is for them to swim to a first place finish in all but one event and ultimately win a meet with triple the points of their opponent.
On Saturday, the Rockets concluded their dual meet season with a bang. Despite the stress of exam week and the aftereffects of a fun but incredibly tiring Friday night social, RM raced hard against Blair, concluding the meet with a 128-43 win for the boys and a narrow loss for the girls, 78-93.
Sophomore Ian McBain and junior Kamryn Umbel both took first place in the boys and girls diving events, each securing six points for RM. McBain was closely followed by freshman IV Brown in second, while freshman Lydia Harouna finished fourth for the girls.
As the starter called for the end of the dives and the beginning of the swims, RM's 200 medley "A" relay teams, each composed of four very strong swimmers, stepped up to the blocks. Less than five minutes later, the boys and girls had both slammed into the wall before Blair and set the scene for the rest of the meet.
Though the boys' winning streak was ruined by the 50 freestyle, that was a loss that could hardly be called one. Junior Matt Nguyen finished a mere 0.06 seconds behind Blair's Thomas Brown de Colstoun. Junior Simon Li was only 0.02 seconds behind Nguyen, then followed by senior Eli Samuelson, who took fourth. RM's 2-3-4 near-sweep, though not embellished by a first place finish, was enough to ensure that Blair would be shown no mercy.
Other notable boys events included 1-2-3 sweeps in the 200 individual medley, 500 freestyle, and 100 breaststroke. Likewise, the girls swept their 100 breaststroke as well, led by senior Sophie El-Masry. Additionally, senior Audrey Richter won all three of her events: the 200 medley relay (in which she swam 50 butterfly), 50 freestyle, and 100 freestyle.
"Both the girls and boys stepped up for a hard fought meet," said sophomore Shoham Ghosh. Indeed, it was a great way to put a close to the regular swim season. Next week, the Rockets take on Rockville for their final scrimmage.
In addition, be on the watch for RM's post-season championship meets, including Divisionals (January 30), Metros (February 3-5), Regionals (February 12-13), and States (February 19-20).