RM Boys Basketball falls to Gaithersburg in first game of the season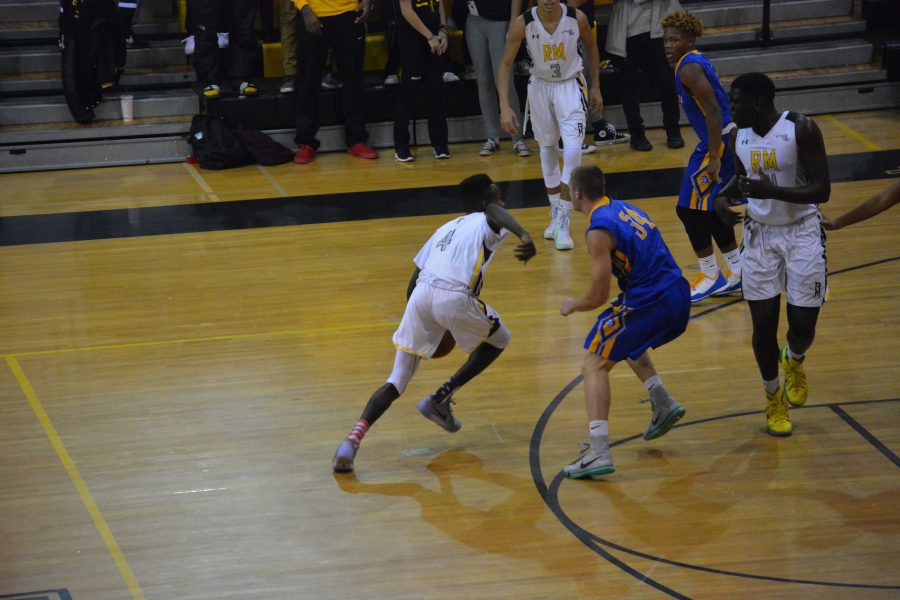 Evan Scheinberg
December 6, 2015
Despite a valiant effort that came down to the wire, the varsity Rockets fell to the Gaithersburg Trojans, with a final score of 69-61.
After two previous triumphs in the JV division by both boys and girls, the Rockets took the floor with a packed house featuring the loud Rocket Riot. The starting lineup was all seniors: Julian Watson, Joseph Contreras, Daniel Alexander, Seth Nosanchuk, and the powerful Tolu Baiyeshea.
After winning the tip, the ball was fluently moved down to the block where Tolu Baiyeshea dropped the first two points of the young season. Shortly after, Nanda Tarke dropped in a string of two layups and Andy Kwiatkowski dropped in a three to give G-Burg a four point lead halfway through the first quarter. After a slew of trading drained shots, the Rockets regained the lead at the end of the first quarter, 24-17.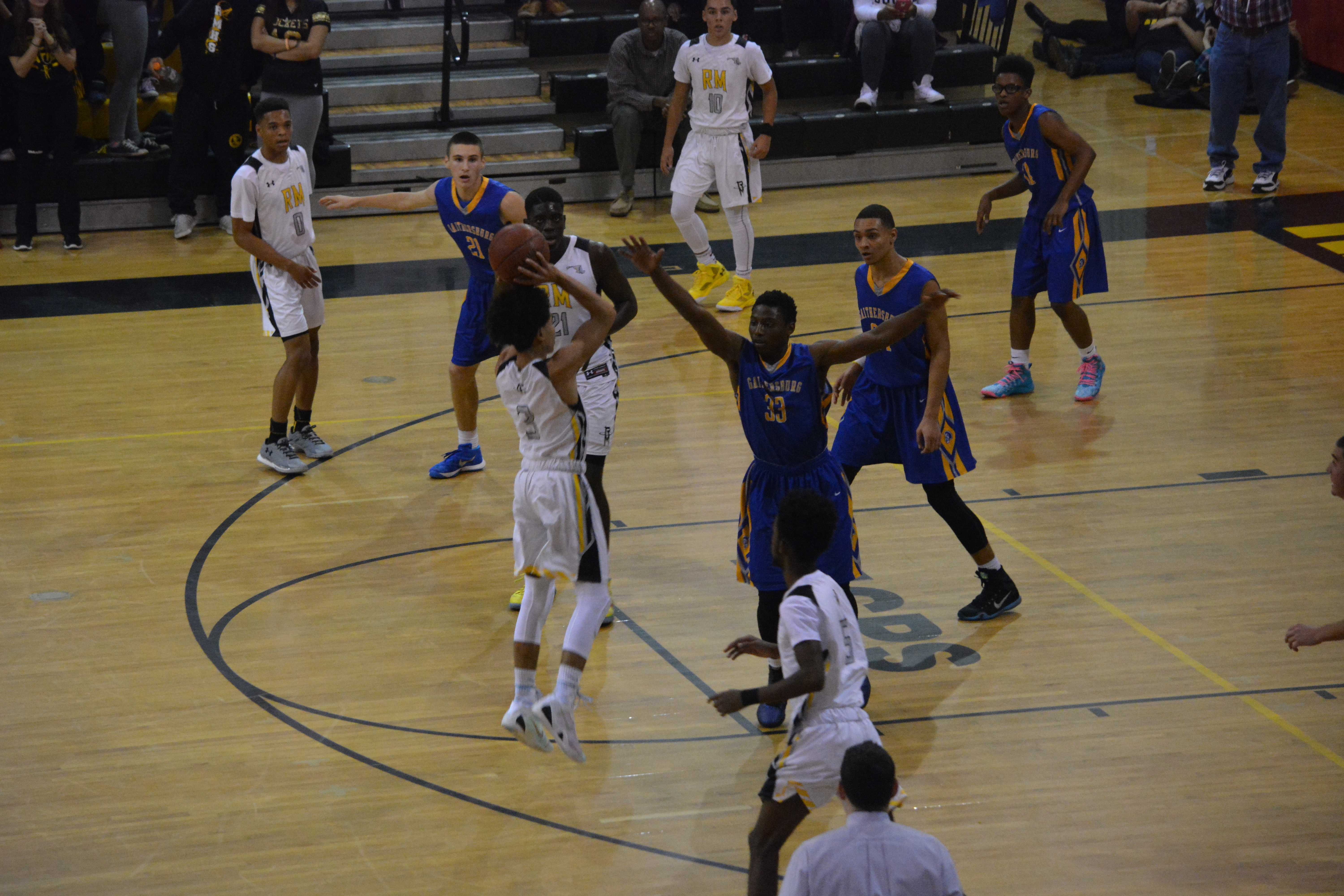 As the second quarter commenced, senior Jonathon Custodio checked into the game, alongside sophomore Daryn Alexander. Custodio's lockdown defense lead to multiple forced turnovers, that led to ensuing offensive possessions by the Rockets. Daryn Alexander's presence was immediately felt, grabbing rebounds on both ends of the court, as well as a beautiful cross court dime to Custodio for a wide open three pointer. However, foul trouble put the starters on the bench and costly turnovers kept the Trojans in the game, closing out the half with a score of 40-39, Julian Watson led all scorers with 10 points.
The Rockets came out in a completely different offense than the previous half. Now in a half court set, the scoring pace slowed down a bit. Just as the previous two quarters showed, the game was back and forth. Julian Watson and Julian Stover took the ball to the rim and put up points for the Rockets, but Alex Rojas of the Trojans was right there to answer. Jordan Stover came in to aid the efforts of scoring, but the Trojans kept on swinging, and by the end of the third quarter, the score was a tight 52-51.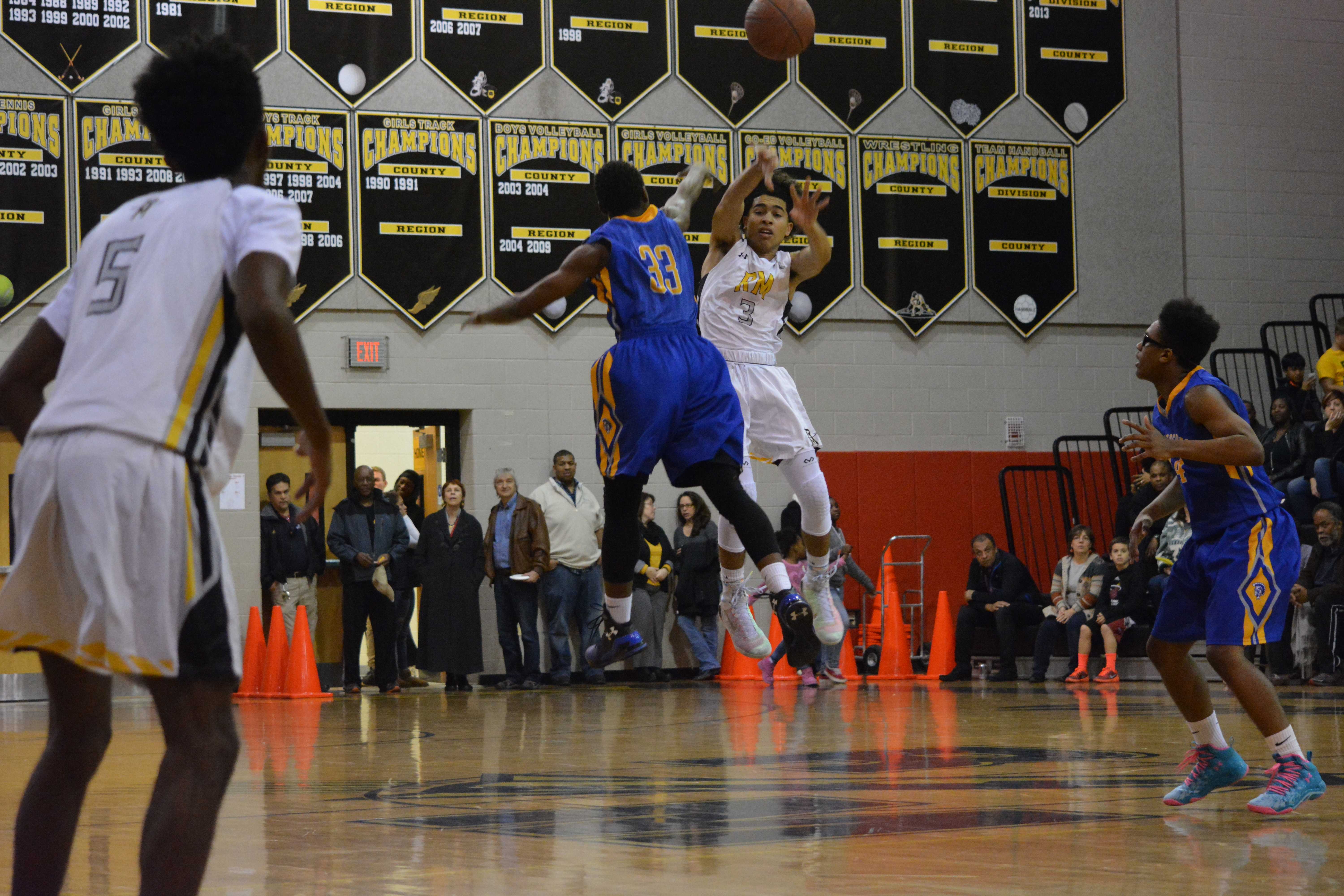 Heading into the fourth and final quarter, it was crunch time for the Rockets. Shortly into play, star guard Daniel Alexander received his fifth and final foul, disqualifying him from the rest of the game. As the clock began to wind down, the intensity turned up. Both teams' defense solidified and scoring went down. With the Rockets up 59-55 with 5:04 left, Nanda Tarke of the Trojans heated up and they stormed the Rockets' defense. With just 57 seconds remaining, the lead belonged to the Trojans. Several missed desperation three pointers and controversial fouls called by officials led to the Rockets' eventual defeat, with a final of 69-61.