Swim and Dive team scrimmage against Damascus shows team's strengths and weaknesses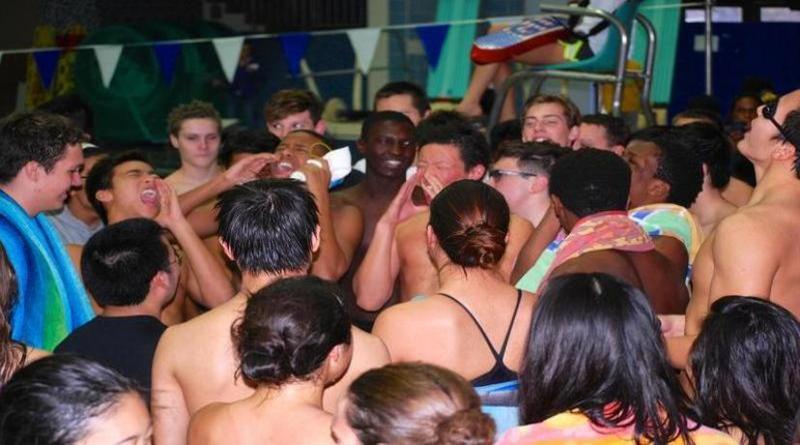 Irene Park
November 28, 2015
Outside the Kennedy Shriver Aquatic Center, all was grey, dull, and cloudy. Inside, however, the Richard Montgomery swim team was lighting up the atmosphere with their unmatchable enthusiasm and readiness. The Rockets set out on their first swim meet of the 2015-2016 season on Saturday morning. A scrimmage against the Damascus Hornets, a comparatively weaker team two divisions below RM, the meet was simply an opportunity to get back into high school swim mode.
According to Coach Aryn Wheeler, 22 of the 60 or so swimmers on the team this year were not on the team last year, so Saturday's meet was vital in exploring the capabilities of each new swimmer for future reference.
The meet kicked off with the diving events, each diver performing two dives. With last year's graduating class, only one male diver was left, initially causing a bit of concern. However, the strong showings by two new freshman divers, Abram Brown and Thomas Sanders, as well as sophomore Ian McBain, revealed that the dive team would again be just as strong as the swim team.
Not long after, the swimming portion began, starting with the 200 yard medley relay. RM's depth, featuring an expansive array of swimmers specializing in each of the four strokes, allowed the boys to shoot past the Hornets and sweep first, second, and third for their A, B, and C relays. The girls' A and B relays took first and second.
The girls and boys teams also swept the 200 yard freestyle relay at the end of the meet. Many individual events went the same way as well, with RM snatching the first few consecutive places despite most swimmers being entered in off-events.
"Since this was just a scrimmage and the first meet of the year, I feel like most people weren't trying as hard as they could have," said sophomore Michelle Li. "But I managed to match my best time in 100 fly, and I think there's a lot of potential for the team. We know we could have swum faster, but we still did so well."
With so many new freshmen, including a particularly strong selection of boys training on the national level, the team has managed to make up for the bitter loss it suffered when the class of 2015 graduated. The return of senior and cross-country star Sophie El-Masry is also bound to add quite a bit of talent on the girls side.
Next Saturday, RM takes on fellow Division I team, Whitman, for the first scored dual meet of the season. Without a doubt, the Rockets will be in for a tough competition.