Volleyball fall to Blair in playoffs, season comes to a close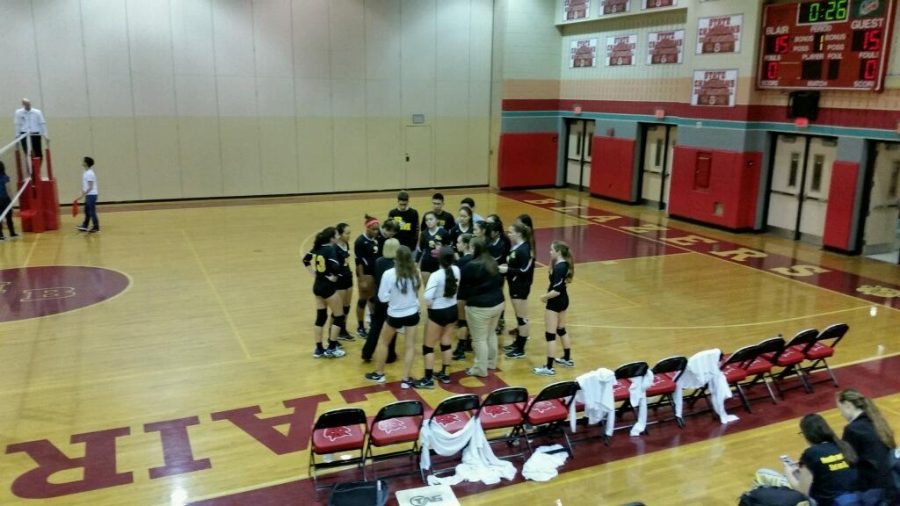 Andy Kostka
November 10, 2015
One final set would decide if the season would continue or slam to an abrupt finish. For the six RM seniors, the fear was for this to be one final high school girls volleyball set.
The fear became reality in just a few moments.
Blair would once again break the hearts of the Richard Montgomery girls volleyball team, winning the fifth and final set 8-15 in the second round of the playoffs Monday night. The Blazers ended a five-game winning streak by the Rockets earlier in the regular season, and after RM picked up steam, defeating Walter Johnson in the first round of the playoffs, the Rockets were once again cut down.
Richard Montgomery entered the fifth set after mistakes saw their six point lead in the fourth set vanish. In essence, the Rockets had gift-wrapped the fourth game for Blair, giving up the lead to lose the set 25-23 after multiple missed serves and borderline calls went Blair's way.
"Before the fifth set even began, I noticed a few of my teammates just started to break down crying," sophomore Brooke Richman said. "I felt as if they were just giving up on themselves as well as the team.
"There wasn't much motivation anymore to win which allowed Blair to take control. They got easy points from us as we fell apart. I feel that if we would have stayed strong and fought through we could've won hands down. We are a great team and it was a hard way to end the season," Richman added.
It's a similar story line from the September 29 game against Blair. Unforced errors defeated the Rockets, not necessarily a better team. Granted, Blair took advantage of the mistakes, a necessity for a good team.
"It was hard ending our season like that knowing that we were the better team. We had everything to beat Blair but we let down and let our nerves get the best of us," senior Abby Hernandez said. "We have had trouble finishing up the game when we're ahead by a 5 or 6 point lead and that's what happened yesterday."
The six seniors finish their girls volleyball careers with a sting, but the four years playing the sport has not been forgotten. "I'm extremely proud of all our accomplishments this year and can't wait to see what's to come for RM volleyball in the future," Hernandez said. "I'm glad I ended my 4th season on varsity with this group of girls, they're all amazing and I will forever be grateful for my team and my coach."
Senior Linda Qiu reiterated Hernandez's point, but as opposed to Hernandez, playing organized volleyball was a new phenomenon to Qiu as a freshman. "At the beginning, I just tried out because I liked the idea of playing volleyball and because my friend wanted someone to try out with," Qiu admitted. "But as each season passed, I grew more and more passionate, realizing how much this sport actually means to me. I'm just grateful to have spent these four memorable years of volleyball with this wonderful team. This is also why it was so pain and heartbreaking for me and the other seniors when our season ended last night."