At the Richard Montgomery Club Fair on Sept. 8 to 9, over 100 clubs were present, hoping to attract new members. From the Student Government Association to Rock Climbing, most students can find something they are interested in. Also present at the club fair were many clubs dedicated to the arts, from Drama Club to Crafty Corner.
Although all students must take an art class for at least a year to receive required credit, many choose to enroll in some form of an art class for the remainder of their high school career. 
Junior Emily Caplan has been taking photography classes since her freshman year. 
"I definitely recommend taking an art class because you can take it for just a semester or a year, and if you don't like it you can just drop it, but there are a ton of art clubs with more flexibility," Caplan said.
Story continues below advertisement
 Caplan is also in leadership for Black Maskers, RM's theater club, which is the largest and oldest club in the school. She is the junior member of the board for Black Maskers, as well as a running and photography chief. 
"There are a lot of different options for artists looking to join black maskers, " Caplan said. "You can audition and be in the cast or you can sign up to be in a crew. There are a ton of different crews, from working with power tools and building the set or costumes and makeup, where you get to express your artistic side a little more."
Because of the small crews and the amount of time spent working together in theater, strong relationships and traditions have been formed throughout the years. Before every show, all drama members gather for "green room," where decade-old pre-show traditions are carried out. 
"It really just kind of shows why Black Maskers is so special. There's just so much connection and support between everyone," Caplan said.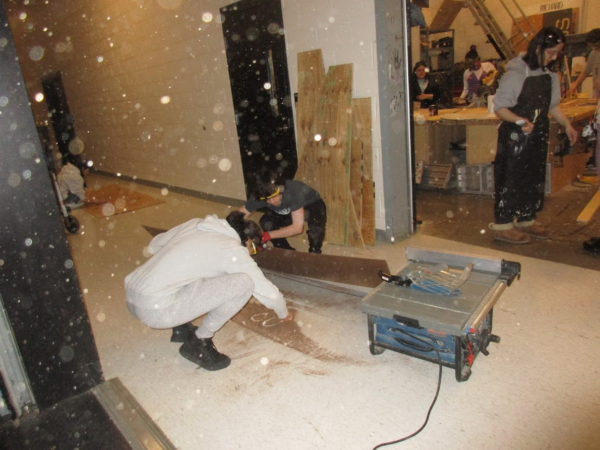 Junior Sarah Howlett is also involved in Black Maskers, as well as one of the founding members of the new Art History Club. Art History Club aims to diversify the art curriculum, provide study resources for students taking AP Art History, and boost interest in the course.
The idea for the club came from the low enrollment numbers in art courses in recent years. Howlett has been interested in art ever since she was little—an interest that has been fostered through her time at RM. 
"I really found my passion for the arts and art history freshman year with photography because we studied a lot of art history," Howlett said. 
Another art club at RM is Crafty Corner, which focuses on lessons and group crafting sessions. Senior Daniel Chernyak is the President and a very involved student in the arts at RM.
"I would describe RM's art community as very large and diverse, as there's a wealth of people who participate in the arts at our school—whether visual or performing, over a broad spectrum of media," Chernyak said. 
The influences of Richard Montgomery's art community can be seen in many places throughout the school, from the murals decorating the walls and the three yearly shows put on by theater, to the graphics in this newspaper.
This influence is also shown by many of the other art clubs at Richard Montgomery including Fine Lines Literary Magazine, the National Art Honors Society and Calligraphy Club. All of these clubs and more can be found on the RM extracurricular website.
"We have a lot of great art clubs and classes. I really think everyone should use that opportunity to explore things they're interested in," Howlett said.