Hispanic Heritage Month is an annual celebration in the United States that takes place from Sept. 15 to Oct. 15. During this month-long observance, Americans recognize and honor the contributions, culture and history of Hispanic and Latino individuals and communities.
The significance of starting on September 15th is to commemorate the independence anniversaries of several Latin American countries, including Costa Rica, El Salvador, Guatemala, Honduras and Nicaragua. Mexico and Chile also celebrate their independence days on Sept. 16th and Sept. 18th, respectively, making this period a time of reflection and celebration of shared heritage.
Hispanic Heritage Month is marked by various events, activities, and educational programs across the country. These events often include art exhibitions, music and dance performances, food festivals and lectures that showcase the rich and diverse Hispanic and Latino cultures. 
Schools and universities incorporate Hispanic history and culture into their curricula, while businesses and organizations celebrate their Hispanic employees' contributions. 
Story continues below advertisement
Richard Montgomery High School's Latino Student Union has been planning ways to incorporate Hispanic culture into the students' schooldays. 
The Latino Student Union is relatively new to Richard Montgomery High School. Originally intending to create two separate unions, students decided to combine the two in the name of inclusivity.
"We saw a Black Student Union be advocated ever since we started at Richard Montgomery, you know, we were like, 'Why can't we do the same thing?'" senior Yasmin Basora, Co-President of the Latino Student Union, said.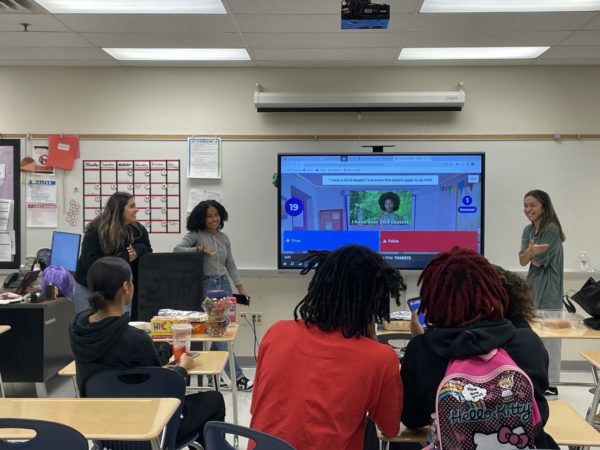 Now that the Latino Student Union has been established, students look forward to having their cultures discussed in classes. 
"It's interesting that there's a focus specifically on it, that people talk about it more. I really appreciate that," senior Emily Martinez Olivares said.
The celebration is a reminder of the profound impact that Hispanic and Latio communities have had on the social, economic, and cultural fabric of the United States. From art to cuisine, literature to music, science to politics, Hispanics have made significant contributions that have shaped the nation's identity. It's also an opportunity to acknowledge the challenges and inequalities that some Hispanic and Latino communities continue to face and work toward greater inclusion and equity.
In 1968, President Lyndon B Johnson created Hispanic Heritage Week, but in 1988 President Reagan expanded it to a month. 
However, giving all of these diverse cultures only one month to be appreciated altogether may cause some to get overlooked.
"I think Hispanic Heritage Month is a very generalized thing. Because they talk about Hispanic culture as if it's all one culture. But each country also has a separate culture," Martinez Olivares said. "They're not all the same place."
However if executed right, Heritage months such as Hispanic Heritage Month can bring communities together based on their cultural similarities while also informing others about their differences.
"I get to learn about my students and where they come from. And so if we are acknowledging our differences, I think that's great," social studies teacher and Latino Student Union sponsor Mr. Carlos Montalvan said.