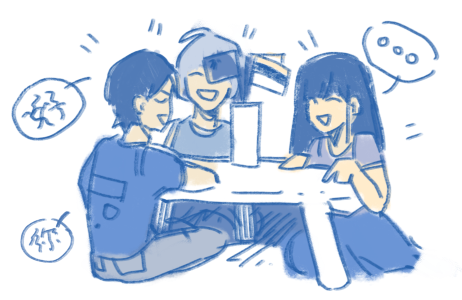 At RM, there are over 130 clubs serving about 2,450 students. This large selection, ranging from the classical arts to neuroscience, allows students with similar interests to gather and explore their passions together. With so many opportunities to choose from, many students decide to join cultural clubs. 
A list of the clubs offered can be found on RM's club website. 
According to a 2021 study conducted by the Pew Research Center, U.S. public school students are likely to attend schools where at least half of their peers share the same ethnicity or race. However, Rockville is one of the most diverse cities in the country, and the cultural clubs at RM are a testament to the diversity of our school community.
Cultural clubs can be a safe space where students feel understood, or a place where they can make new friends and form lasting bonds with one another. From fun activities such as trivia games  to volunteering opportunities, there are a wealth of benefits when joining a cultural club. 
Story continues below advertisement
Some popular picks include the Chinese Instrument Club, the Muslim Student Association and the Jewish Student Union. To provide an even more inclusive space, staff sponsors of these clubs typically identify with the culture associated with the club. 
"Working with a cultural club makes me feel warmth. Cultural clubs let everyone know that everyone is loved," sophomore Jing Yi, a member of the Chinese Instrument Club, said.
The Muslim Student Association (MSA) is one of the cultural clubs at RM whose mission is to foster understanding and awareness of the different ethnicities and cultures that are a part of Islam.
"This can have a big impact on students in RM because the side media shows about Islam or Muslim countries [has] made some people dislike Islam, so we want to prove that the side media is showing isn't true," senior Dewa Hazrat, secretary of the MSA, said. This year, they plan on celebrating World Hijab Day and integrate possible Ramadan accommodations, including other activities. 
Similarly, the Jewish Student Union (JSU) provides a safe space for members and thrives to promote Jewish culture. Their mission is to celebrate Judaism with fellow Jewish students and educate others about Judaism through monthly meetings. These meetings consist of discussions, word-searches and other activities such as Kahoot. 
"I personally think cultural clubs are very important," sophomore Taylor Morrison, a member of the JSU, said. When faced with derogatory stereotypes and offensive remarks, Morrison found the JSU to be a safe space. "JSU reminds me that I'm not alone and despite these…offensive comments, there are people who get my culture and enjoy it."
Every RM student is welcome to join cultural clubs, regardless of their race or ethnicity. Some students view the diverse opinions and cultures present at these clubs to be a positive attribute. 
"I was able to find a diverse community where…people could come together with their different ideas. I think that's why [cultural clubs] are very valuable," Arisa Collin, a sophomore and founder of the RM Japanese club, said. The RM Japanese club also has many exciting events planned this upcoming school year, such as volunteering at the annual April Japanese Festival in D.C. 
"RM is a diverse high school just like Montgomery County as a whole. I think…our extracurricular clubs should reflect that," Collin said.