Sophomore class president Abrosimov brings new additions to RM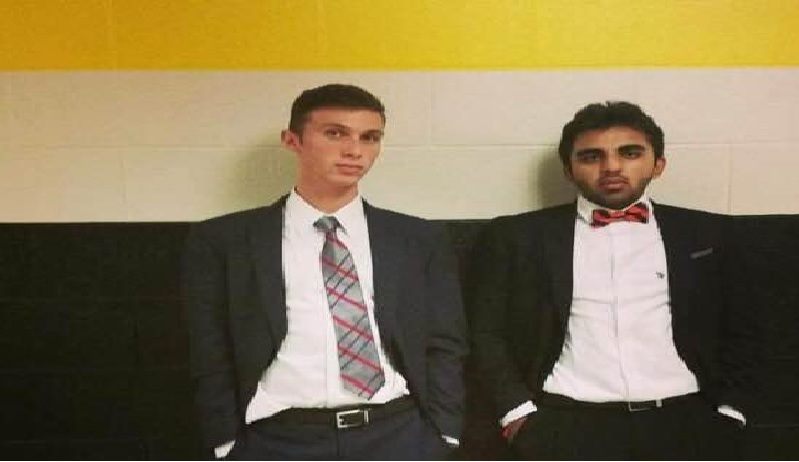 Vlady Guttenberg
November 3, 2015
You know his name. It's catchy and easy to remember, especially after last April's election season, when "Alex A. all the way! Alex A for SGA!" resounded through Richard Montgomery's halls. You've likely heard of him , perhaps in a joke, or some formal Facebook announcement. But sophomore class president Alex Abrosimov is much more than a symbol candidate – first and foremost he is a peer.
"The students deserve respect from the teachers and administration. We may be teens but as high schoolers we are close to adulthood." said Abrosimov, "I think we can improve on how we are treated in certain situations." This, along with what he calls a "lack of excitement and enthusiasm" appear to be the top priorities on his agenda.
Abrosimov has been collaborating with the junior class president Veeraj Majethia for a series of side projects, the most prominent of which is the new lunchtime food trucks.  "School lunches were bad" observed Abrosimov, "and I didn't like how people were wasting their time walking to Rockville Town Center, so I thought, why not bring the food to Richard Montgomery?"
For the past couple of years the curb near the student parking lot has been home to a single 'Hungry Howie's' truck that supplied many of Richard Montgomery lunches. However, the pizza truck may have to share the market following introduction of food caterers like 'Hardy's', 'La Strada', and a "Java" coffee stand. "They bring a cool variety of food near the school that is easily accessible. Just the other day the Java Cruiser was a big hit!" commended Sophomore Ian McBain.
The Student Union Party, or SUP, is a social club created by Abrosimov and Majethia in an effort to "get the overwhelming voice of the students heard" by addressing current issues at the school such as improving the winter 'mixer' or the controversial dress code. "I want students feel welcome to express themselves," says Abrosimov in response to the latter topic. And it seems that students are warming to this idea of 'expression'. As of October 26th, the SUP has had close to 50 members sign up, and expects to continue to expand.
In addition to his partnership with Majethia, Abrosimov and the other class of 2018 officers are working on making the SGA more approachable . "We hope to hold a public forum in the following months. People will have a chance to come up to the mic and telling us what they feel needs to be done." Abrosimov announces, "Hopefully this will make everyone more engaged and change how people view the SGA."  This, and a "RM Class of 2018"  Facebook page are meant to serve as the main sources of student government news.
Considering his expertly designed campaign, it is hard to believe that Abrosimov is new to the SGA. "I guess I'm kind of an outsider,"  reveals Abrosimov, "I just saw what was happening at the school and I had some ideas that were unusual, but I thought that if I pushed through the setbacks I could make change so I ran." But his ideas aren't limited to a single class. He intends to take them schoolwide this year with his campaign for vice president. Even now, he is working with a diverse team: his longtime friend Majethia, his hardworking officers, and many other SGA representatives.
"Alex is a great leader," said student government president Zack Khan. "I really appreciate his out-of-the-box thinking . Having worked with him both in SGA and on the debate team I can personally vouch for his passion in helping the students of RM."