Senior Reflection: Ella Koenig
I entered high school a very different person than I am today, in more ways than the typical maturation that occurs growing from 14 and 18. I took classes both difficult and easy, had teachers both bad and good, and learned above all else that I absolutely should not pursue a job in STEM… but the most important lesson I learned never came from sitting at a desk.
If I had to summarize my one piece of advice for any and all students, it would be to put yourself out there. Get involved. Try something new and you never know what may come of it.
It's insane to think that my life could be so wholly different had I not followed this principle and taken a leap my freshman year. Going into high school I was a very sports-oriented person. All my extracurriculars revolved around sports in some capacity. Freshman year I joined the drama club at the urging of my best friend Emma, and I have never been more grateful for such a simple decision.
In a turn of events I could have never predicted, I fell in love with theatre. Even through COVID, I stayed involved in the club, eventually returning to become an Assistant Technical Director/Assistant Stage Manager as a junior, and now the senior Stage Manager and Technical Director alongside one of my closest friends. I was even elected to the Board of Directors, an honor and a privilege I have cherished over the past school year.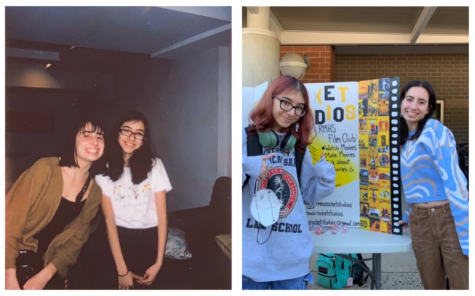 The Black Maskers Drama Club has given me some of my very best friends and taught me so much about my passions, drive, and love for creativity. I am so beyond thankful for the people I met in this club, and for all the hard work, passion and dedication that shines through every production. Drama was the highlight of my last four years and I can't imagine having it any other way.
I say all this because four years ago, I could have never imagined this is where I would be. As cliche as it sounds, without "taking a leap of faith!" and "trying something new," I wouldn't be the person I am today. High school is the perfect time for exploration, and Richard Montgomery provides so many opportunities for everyone to do so.
So take a leap and try out that new club you saw advertising on Main Street, join a new sport, or take a fun elective. I promise you, it's worth it.