"Food Truck Frenzy" begins with planned arrival of three new vendors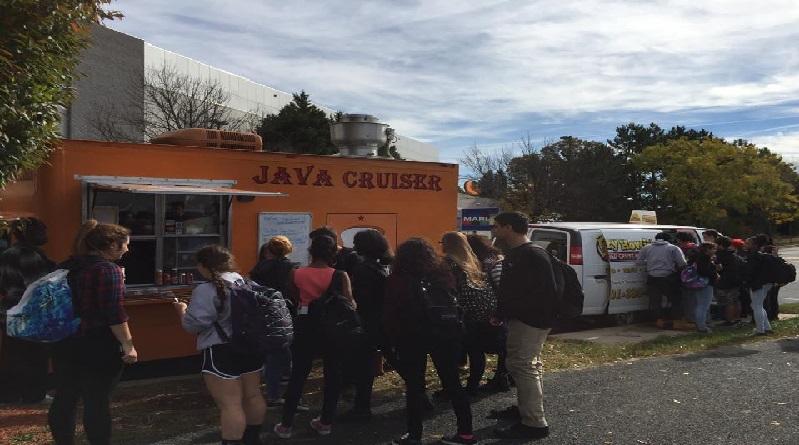 Darian Garcia
November 1, 2015
The beginning of the food truck era at RMHS is in full swing.  Years after Hungry Howie's, and to a lesser extent, Carmen's Ice, began dominating Fleet Street during RM's lunch hour, new delicious bites are rolling onto the scene.  
This is all thanks to RM SGA class presidents Veeraj Majethia (11) and Alex Abrosimov (10).  Although the project is strictly not associated with SGA and RMHS, these officers have been hard at work for what they believe to be the student body's best interest.  
The new trucks, however, are not able to station themselves on the same Fleet Street that has been inhabited by previous food establishments.  The spot where Hungry Howie's comes to sell food every school day is actually an illegal parking spot.  Thus, the new food trucks will have to station themselves in the parking lot of Marlo Furniture, less than two blocks away from RM.      
Howie's monopoly over student's quick go-to for lunchtime meals is inevitably coming to an end, however, as they are soon expected to be joined by organizations Java Cruiser, La Strada, Holy Crepes, and Hardy's BBQ.
Java Cruiser was the first company to have a deal brokered with Marlo Furniture by junior Majethia, and it made its debut last Thursday, October 22.  The food truck is expected to continue to arrive in the furniture store's parking lots on Tuesdays and Thursdays for students looking to get a bite of gourmet breakfast sandwiches and other tasty items like Cuban coffee.  
One Java Cruiser employee expressed that he was excited with the new endeavour of coming to RM, and plans on continuing to sell his croissants on Tuesdays and Thursdays.
La Strada, an Italian food truck selling classic paninis and chips, made its debut on Monday, giving students yet another option for exploring "the globe" without leaving Rockville.  Hardy's will join them on November 18, with students hungry for a bite of their hand-made BBQ delights.
Both La Strada and Hardy's are participating in "test runs," and will decide whether or not to continue catering to students' stomachs based on how well they do economically in their first appearances in the Marlo Parking Lot.  
Homecoming king and food fanatic Mfundo Kaendera thinks having more food trucks around the block is a great idea.
"It's a good idea because now we [will] have a variety of choices.  Students can get what they want, without having to walk too far to get it."
Majethia, the initiator of the so-called "food truck frenzy" said that this was one of his greatest motivations in beginning this project of getting more food options for students.  
"In the winter, when it's really cold outside, and even now in the fall, students need, and have expressed the desire for, closer places to eat, and I think it is my responsibility to help them get that."
He also made sure to note that students are becoming more and more apathetic towards the pizza trucks and need a more extensive variety of choices for lunch.
"People are getting fed up [with] the pizza truck," said the coordinator of the project.
Majethia ended on a high note, emphasizing the proactive goals of his attempt to bring more food trucks to RM:
"This is all for the students.  We want more options for the students.  Students are getting late to class, and we want closer food for them [so that they] don't have to trek to Town Center if they don't want to."