County proposes FY 2024 budget
MCPS superintendent Dr. Monifa McKnight submitted her tentative proposal for the MCPS Fiscal Year (FY) 2024 Operating Budget to the Board of Education (BoE) on Feb. 23. It proposes $3.2 billion for use, a 10% increase from the FY 2023 budget. Public hearings will be held in April and the final budget will be passed in May.
The proposal reflects feedback from the community, the BoE and Maryland Governor Wes Moore. Moore had designated $93 million in state aid for educational priorities like English learning services, accelerated learning programs and improvements to the curriculum.
The operating budget proposal contains many items of interest to students and teachers, including a higher minimum salary for teachers, covering AP/IB fees and dual enrollment costs for students, bonuses for National Board Certified teachers—a category in which Montgomery County is first—and countywide pre-kindergarten. These ideas have been proposed in previous years but were only included into the budget this year. 
Dr. McKnight had held a town hall at Walter Johnson High School in January, where she asked students and staff about the barriers they face in MCPS. They discussed the financial difficulties of the AP/IB testing process.
"MCPS should make sure that everyone has the opportunity to take these exams and get credit for college. We should do as much as possible to prevent it from being a pay-to-win system," sophomore Aaron Logsdon said. "Students shouldn't have to be limited in their educational opportunities past high school due to finances."
While drafting the budget, the BoE had four main goals: increasing math and reading competency rates, increasing retention and recruitment of diverse and qualified staff, improving communication with families and promoting safe buildings.
"This budget continues to be centered on our core purpose of preparing all students to thrive in their future and graduate with deep academic knowledge and preparation for the complex world and workplace of tomorrow," Dr. McKnight said in the budget proposal.
Other students have feedback on how county schools, especially RM, are utilizing their funds. "Students clearly have shown a lack of response to counselors or mental health professionals," sophomore Norman Meyer said. "More school wide hands-on activities, such as the therapy dogs that came last year, would be more beneficial for the students."
About the Contributor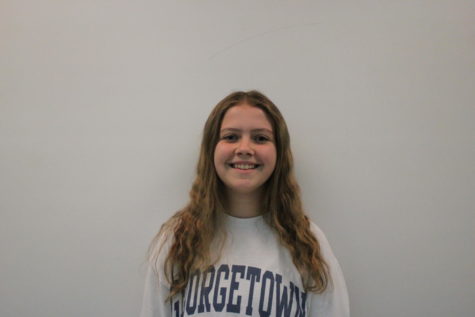 Samantha Cutler, News Writer
Samantha is a sophomore at Richard Montgomery. She is excited to be serving as a news writer for the second year. She enjoys listening to music, reading,...