Mayo elevates RM to new heights
Junior and starting shooting guard Dante Mayo Jr. began playing basketball at just five years old. "I started getting serious with it around 12," said Mayo. He was put on varsity as a sophomore, his first year with the team. Now as a junior, he has been named captain, and has been a leading scorer all season. 
Mayo has helped lead the team to seven victories so far this season, scoring a game high 36 points against Wootton High School, where the Rockets ended in a close loss, the scoreboard reading 78-75 on the buzzer. "But, it's really not what's important," Mayo said, on his personal record this season. "The team win is what I focus on." He feels that the most rewarding successes are those where all the boys thrive and work fluidly together.
Of all the games played this season, Mayo is most proud of the victory against Bethesda-Chevy Chase. "It was a good quality win…we did a great job moving the ball and that was our best shooting game of the season for sure," Mayo said. "…I had 20 points and I also was pretty efficient with my shooting."
Some of the major attributes Mayo brings to the team as one of three captains are his leadership skills and driven personality. "Without a doubt, he is always the first one to speak up and encourage his teammates," senior captain and point guard Sammy Mushagasha said. 
According to Mayo, keeping his motivation high is the key to his success. Los Angeles Lakers legend Kobe Bryant is his main inspiration for the sport, as he lives by his infamous "Mamba Mentality". "Dante has a great mentality. He understands that a win is great but that doesn't mean the job is finished, " junior and center/power forward Max Meringoff said. "He knows that he still needs to work on things, as does the team, and he shows that by continuing to work hard."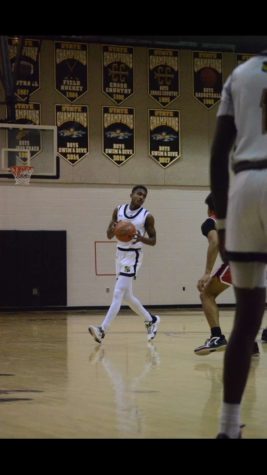 Mayo is not only a disciplined, stand out player, but it notably one of the most humble student athletes. "Dante plays because he loves the game, not for the praise or recognition that comes with it," said Mushagasha. "He always makes sure our heads are up and reminds us to stay positive…while giving everything he has," said Meringoff.
In addition to Mayo's fierce commitment to varsity level basketball and his shining record on the court, his academic record has remained pristine. He has been a part of the IB Program at RM since his freshman year. "Dante is a dynamic and energetic student who has the ability to see multiple perspectives at one time, so I can imagine some of his academic skills transfer well on the basketball court," IB English Literature teacher Susan Leckie said. 
In addition to RM's winter season, Mayo plays for Inspire Elite, an Adidas Gold Circuit AAU during the spring and summer. "Basketball is a huge time commitment…I pretty much play year round," Mayo said.
As a busy student athlete, he's beyond grateful for the support of the team, as he feels it operates like a family. "We have a great culture on the team…you know we are always there for each other. I just really like the environment we have built here," Mayo said."With this chemistry, I think we can definitely make a really deep run in the playoffs…we have the pieces and we have the right mentality."
Still blazing through his junior season, Mayo has lots of time to continue proving his skill, building an even stronger team community, and paving the way for future rocket athletes. "My advice to younger players is to keep pushing yourself to be better everyday, even when it feels like all eyes are on you…continue to work hard because in the end it's just such a great experience," Mayo said.
About the Contributor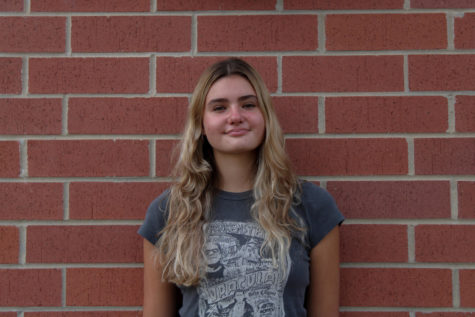 Maggie Orcev, Sports Editor





Maggie is a junior and is the Sports editor for the tide. She plays on the field hockey team here at RM. When she's not working on articles,...