SMOB finalists are selected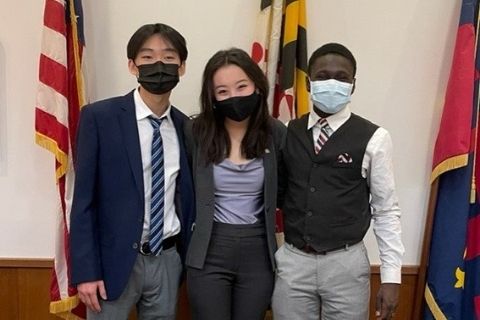 At the nominating convention the week of February 20, candidates Arvin Kim and Baba Cisse were selected as finalists for the 45th student member of the Board of Education (SMOB). MCPS students will vote in an election occurring April 20. 
This year's student member of the Board of Education (SMOB) candidates filed for candidacy as of January 27. Sophomores and juniors at all MCPS schools were eligible to run. The winning student will be a voting member of the MCPS Board of Education and has a vote in matters concerning school closings and reopenings, budgeting, school rezoning and collective bargaining. This student will serve as SMOB for the entirety of the 2022-2023 school year.
Montgomery County is the biggest school system in Maryland and serving on its board comes with a lot of responsibility. "I'm a firm believer in one thing, and that's that a SMOB represents all 160,000 students in this county," Whitman junior and SMOB finalist Arvin Kim said. "That's a very sizable student population. And that's not a task one person can do alone. And I believe that the mission to represent all those students goes far beyond one person and goes far beyond one campaign." 
SMOB candidates typically utilize their past experiences in student government and leadership to inspire their candidacy and platform. "I went into freshman year and I became class president.  I tried to help others with opportunities that weren't there for me when I was younger," Albert Einstein junior and SMOB finalist Baba Cisse said. "When I became involved in SGA, I realized that there is a county wide opportunity gap involving some of the issues I am here to fight for."
Several candidates shared the notion that many students all over the county lack awareness of the opportunities surrounding the SMOB, like voting in the general election, being a delegate at the Nomination Convention, or even running.
"Over the past few years, I have seen how some students don't feel represented. Or some of them don't even care about their vote, they just vote for whichever candidate because they don't feel like their voices are ever going to be heard." Seneca Valley sophomore Javier Guerrero said. "And in the past, I used to be one of those students. I used to feel like the SMOB didn't really get involved as much with the students, they only came in for campaigning, said, 'Hey, we're going to do this' and then forgot about the students later on. And what motivated me the most to run is to do the opposite."
Jaiden Burney is a junior at RM who serves as junior class president and vice president of Jaguar Scholars. A key component of her SMOB platform was ensuring transparency on behalf of the Board of Education.
"It's kind of disheartening because we look up to the Board of Education for to make these decisions that don't reflect us," Burney said. "When we're not involved in the decisions that affect us, we're left out of the blue and then that creates a lot of backlash and issues that could have easily been avoided." 
In the past 5 years, 3 of the SMOBs have been students at Richard Montgomery, namely Hana O'Looney (2021-2022), Nick Asante (2020-2021) and Ananya Tadikonda (2018-2019), and 4 have been students in the Upcounty Consortium, schools including RM and Sherwood High School, Matthew Post (2017-2018). 
Serving as an officer for organizations, such as the Montgomery County Regional SGA (MCR), are generally viewed as unofficial requirements to be a SMOB. These organizations are open to all general members, but obtaining leadership positions can be challenging.
"I only found out about MCR in my sophomore year during quarantine. I had never heard of MCJC, and I understand that so many students are unaware of their opportunities to participate in activism," Poolesville junior Heera Anand said. "I am grateful for the work I have been able to do in advocacy these past few years, but as someone who has been both an insider and outsider in Montgomery County activism, it is vital to me that we are able to get as many students as possible involved so we can fight harder and stronger for the causes we believe in."
Leave a Comment
About the Contributor
Samantha Cutler, News Writer
Samantha is a freshman at Richard Montgomery. This is her first year writing for the Tide, and she is excited to be serving as a news writer. When not...