Compostology: saving the planet one trash bin at a time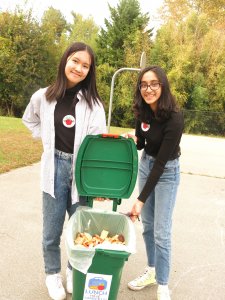 If you look through the trash bins after lunch at school, chances are you will find enough food to last more than a week. Unopened prepackaged sandwiches, fruit cups, chicken nuggets and potatoes, bags of chips foregone … all this food makes its way from the tray (and the lunchbox) to the trash. The trashcan is not hungry, so why do we keep feeding it? 
Food waste is a problem in Maryland. In September 2015, the U.S. Environmental Protection Agency (EPA) and U.S. Department of Agriculture (USDA) announced a national goal to reduce food waste by 50 percent by the year 2030. But in Maryland, close to a million tons of food waste is generated each year, making achieving this goal unlikely as only 15.5 percent of this waste was recycled in 2019. The rest is discarded in landfills or burned.
Food waste has a dire effect on climate change. The waste that ends up in landfills produces methane — a noxious greenhouse gas. Food scraps in landfills cannot break down because there is no oxygen present to kickstart the biodegrading process of organic materials. Greenhouse gasses absorb infrared radiation and heat up the Earth's atmosphere. 
Food waste squanders freshwater and groundwater resources. When you pour a cup of milk down the drain, approximately a thousand liters of water is wasted. Consumable water is a very limited resource as less than one percent of the water on Earth is usable freshwater. Putting food scraps in landfills also produces leachate, a toxic slush created from the interaction between the water present in the scraps with all the other trash in the landfill. Leachate seeps into bodies of water, polluting our drinking water and harming the animals living there. In addition, roughly one-third of the world's total agricultural land area is used to grow food that is wasted, and millions of gallons of oil, another limited resource, are run through only to produce food that is not eaten.
School cafeterias contribute greatly to the significant amount of food waste generated in Maryland. In Montgomery County, schools throw out 14,000 tons of food scraps annually. 
To address food waste in schools, sophomores Angelina Xu and Advika Agarwal have been advocating for a viable solution in the form of composting.
Composting is essentially giving leftover food a second life by transforming it into natural fertilizer for plants. Compost is decomposed organic matter. Soil, microorganisms, bacteria and earthworms break down matter into nutrient-rich fertilizer. 
Composting requires food scraps (i.e. eggshells and fruits/veggies) high in nitrogen, carbonous substances such as sawdust, oxygen and water to break down. 
In seventh grade, Xu and Agarwal learned about food waste as they were researching topics for a science fair project. 
"We thought it was a problem that's pretty easy to start solving at the local level because it feels more like an ethical issue of not respecting food," Agarwal said. "But if people become aware of the actual impact, they have on increasing our county's greenhouse emissions, we think that there's a really big potential to reduce that waste and make a tangible impact."
After Agarwal decided on their project's topic, she talked to her family about it and learned that her grandfather was passionate about composting in India. Throughout his career, he had done a lot of environment and equity work for his community and put a lot of effort into building a large composting site in a neighborhood where there was limited access to clean water. Agarwal hopes to continue the legacy of her grandfather with Xu.
For Xu, she became aware of the sheer amount of food thrown away each day in elementary school. 
"When people didn't want to finish their part of their lunch, they would just throw it into the big, black garbage bins and seeing how full the bins were at the end of the day as the building service workers took them out inspired me to keep the preventable waste from going into the incinerators," Xu said. "It's such a huge part of climate change and if we know we can prevent food from wasting away, through a proven program like composting and food recovery, then why aren't we taking the steps to do that?"
"
It's such a huge part of climate change and if we know we can prevent food from wasting away, through a proven program like composting and food recovery, then why aren't we taking the steps to do that?
— Angelina Xu
Xu and Agarwal made it to the national level of the science competition, but their work did not stop there. 
In December of 2020, they initiated a composting program at Clarksburg Elementary School and kickstarted their organization Compostology, which is dedicated to diverting food waste from schools to composting facilities. During lunch at Clarksburg ES, students separate their uneaten food from the rest of the plastic and paper that may be in their lunches into green bins set aside for the food waste itself. Some schools are also working towards incorporating a liquids collection for leftover milk or other liquids. The big green bins are rolled to the back of the school, and a third-party hauler takes them to composting facilities either in Prince George's County or Frederick County. 
The program proved worthwhile. In six months, 2.64 tons of food waste were diverted at just one school, averaging at about ten pounds of salvaged food scraps per student.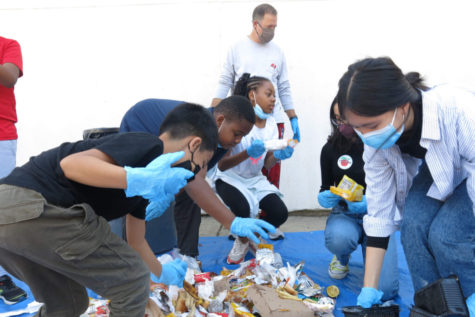 In the summer of 2021, Compostology formed the Coalition to Re-imagine School Waste with students from Bethesda Chevy Chase High School, which received a $48,000, two-year grant from the World Wildlife Foundation's Food Waste Warrior Program. 
Currently, Compostology has jump-started composting programs at three additional schools — Greencastle Elementary School, Julius West Middle School and A. Mario Loiederman Middle School — and looks forward to fostering a community passionate about food recovery. Later this month, they will launch the program at College Gardens Elementary School. 
Beyond Compostology's leadership and outreach teams, there are also leadership opportunities for elementary school students and high schoolers. Younger kids lead their peers in food recycling and get a first glance at educational materials promoting Compostology's mission before they are presented in classrooms to ensure their peers will be able to comprehend the information. Older students can work with administration to spearhead the program at the schools and generate interest.
"We believe the relationships formed between older students and younger students are really important," Agarwal said. "We're working on different activities to educate kids about food waste reduction and spark that environmental interest."
Compostology is working on holding school assemblies during lunch where they converse with the students about the importance of composting and play fun games, like showing students different items on the screen and asking them to put their thumb up or down if it is compostable or not. It has also created presentations for science teachers to share with their students about composting.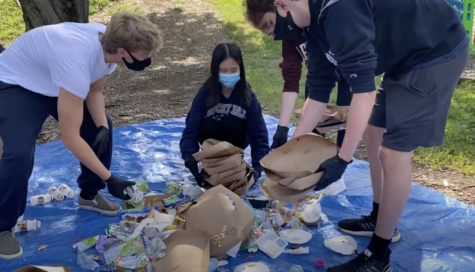 "The waste audits are fun because students get pretty excited about getting to touch the trash that we dump on the ground as they see how much is recyclable and compostable," Xu said.
Two of the four schools have many Free and Reduced-Price Meal (FARMs) qualifying students. In the near future, the organization will implement shared tables in schools to emphasize food recovery. Shared tables refer to conserving the unopened food leftover in the cafeterias every day by making sure that the students who need it are getting that food and donating it to food banks.
The grant expanded Compostology and enabled its members to connect with student leaders from other high schools that were working on getting composting programs in their schools as well as with county leaders such as Board of Education member Lynne Harris and Maryland Public Health Association member Erica Weiss. 
"A lot of the people we met were eager to support the cause. Especially within Montgomery County, people are becoming more aware of the environmental concerns that are being posed," Agarwal said. "I think everyone we spoke to understands that foodways definitely fall in line with meeting our targets for reducing carbon emissions."
Xu and Agarwal attribute some of their progress to former CEO of Bar-T, Joe Richardson, who has been mentoring them since 2020. He provides a lot of supplies to Compostology, like the green bins, and in-person support by hosting waste audits at Frederick and some of the schools within Montgomery County. Waste audits entail dumping out entire bins of trash and separating it to see what plastic is and what is actually compostable food waste. 
Additionally, Richardson testified in front of the Maryland Senate and House committees alongside Xu and Agarwal. 
"I've testified in front of the Board of Education before and I did submit video testimonies throughout 2021 before, but testifying in front of the Senate Committee was a bit nerve-wracking," Xu said. "It was during the school day, and we hadn't really testified in front of such a committee at that point, so I was a little bit nervous. But working with Advika to write the speeches really helped and then also having the support of other adults within our coalition definitely helped."
Xu and Agarwal, alongside other student advocacy groups, are championing two bills: HB150 and SB124. If passed, these bills will invest in a grant worth half a million dollars for county boards of education and public schools to develop and implement programs for reducing food waste and to establish composting of pre-and post-consumer waste. Schools will be able to apply under a set of criteria outlined in the bill.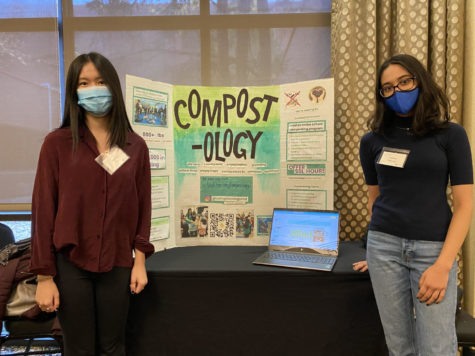 To garner support, Compostology is in the process of carrying out a postcard campaign where students show legislators that they are interested in starting waste diversion programs and expanding access to environmental opportunities. 2,600 postcards were printed out and throughout last week, RM students were able to fill out a postcard during lunch. 
"We have students from 22 schools across Maryland working on getting these postcards distributed to people in their schools. The number of students dedicated to advancing this cause has shown me that we can grow because in the early days it was just Advika and me working on this," Xu said. "Now that there are so many more students than I would have ever imagined working together for this one cause gives me strength because it shows me that students really care."
Xu and Agarwal spend a large amount of time on their Compostology-related endeavors daily. 
"We have really been pushing ourselves for this program's success, but we've also been reminded that it's also important to take time for yourself," Xu said. "These projects are not a sprint; they're a marathon. There are always things that you can do tomorrow instead of staying up an extra hour today. If that's what's best for your mental health and even your physical health, then you should be taking that time for yourself."
Agarwal has also learned a lot about advocacy since the genesis of Compostology. "You need to promise yourself that you will do whatever it takes to achieve your goal because no one is going to be a better force than you to get there," she said. "There are so many programs out there from student governments to the state government to help you out. People will always be supportive, but you need to be the one that's taking initiative every time."
Students can learn more about Compostology by checking out their website, linktree.com/compostology, or get involved by sending a message to their Instagram account: @compostologymd