Thoughts in quarantine
Dear reader,
My experience with Covid was honestly surreal.
I tested positive on Jan. 7 but I stayed home on Thursday since I didn't feel so well Wednesday. Throughout that day, I oscillated from hot flashes to having goosebumps rise on my skin, but I reasoned that the return to school after an extended winter break made me feel sick. On my way home from school, I worried about the chances of me having Covid since my dad was scheduled for an important procedure the next day. As soon as I got home, I took all my stuff to my room and called my mom. She left work and bought several rapid home tests (which, might I add, are pretty expensive.) The test indicated that I was negative, but actually, we later found out that traces of the virus are not picked up by these rapid tests before 24 hours of experiencing symptoms. 
To be on the safe side, I stayed home Thursday. Luckily, the snow day on Friday gave me some time to recuperate and get tested officially. The doctor told me I most likely had Omicron since I could still smell and taste, and this variant is so contagious that it is only a matter of time before we all get exposed to it. 
For several days, I lived in my room. Particularly, on a comfy chair. My mom took care of me and brought food and brewed tea with a lot of ginger. My sister acted like I had the plague, so I got some peace and quiet until she started bombarding my phone with selfies. I binge-watched Money Heist on Netflix (highly recommended) and my friend marveled at how I was able to get through most of the show in just a couple of days. 
Did you have to quarantine recently?
Sorry, there was an error loading this poll.
But, it's hard to be productive and resist the temptation to kick back and be a couch potato when you don't feel well. That is what I struggled with when I wasn't able to come out of my room. I like being active, and it's really important for me to work out daily to maintain my mental health. Staying in my room and not having the energy to move reintroduced the negative mindset I try so hard to avoid. I think that's why I need to have something to do every second because it inhibits my thoughts from drowning me. But, I didn't want to revert back to my harmful behavior, and I convinced myself that I needed to kick back and my sedentariness was perfectly justified to allow my body to fight the virus. 
I was uncomfortable with eating in my room because I'm fastidious and I didn't want my crumbs to feed the carpet, but I used a tray to maintain cleanliness.
 My symptoms were flu-like and not too severe — I had a fever that didn't exceed 102 degrees, and I felt muscle fatigue and had a runny nose. I'm vaccinated, so I can imagine that if I had not been inoculated, my symptoms would have been much worse. Also, none of my other immediate family members tested positive for Covid, even though we were breathing the same air, so my dad called me 'Covid-girl.' 
Due to the county's mandated ten-day quarantine for students, I couldn't go to school last week, so I had to keep up with classes virtually. Thankfully, my fever broke the night before, so I felt a lot better going into the week, with the exception of having a stuffy nose and a cough.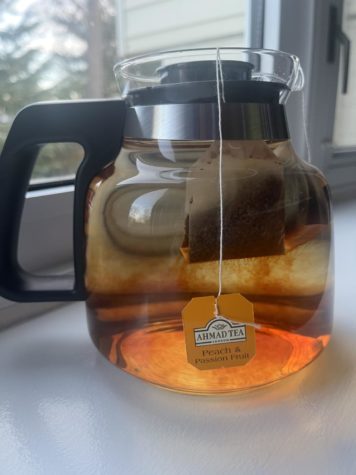 Monday and Tuesday were frustrating because Zoom made some updates for students since last year and I wasn't able to log in for check-ins, which stressed me out a lot, but I called the tech support desk and it magically worked. I communicated with my teachers via email and they were all very helpful and supportive. I completed assignments on myMCPS Classroom daily and reviewed the lessons gone over in each of my classes. Students who are quarantining have access to a spreadsheet with Zoom links for every staff member and whether their teachers are livestreaming classes or holding office hours to support them.
As I waited for my teachers to let me into the Zoom room, I thought back to last year, when MCPS students attended classes via Zoom every day. I remember the isolation I felt, and I wasn't sure whether the feelings I was experiencing were felt by my peers concealed by a black box with their names plastered on it. I remember the sinking feeling I had in my chest that I just couldn't eradicate. But, I also remember the highlights of that year, like connecting with people I didn't previously talk to as much, connecting with my grandparents through our daily Russian lessons and reaching my fitness goals.
Last week really made me appreciate the return to in-person learning this year because it reminded me of how important social interactions are for my well-being, and it also made me feel more fortunate for my family, to who I forget to show my gratitude too often. Being sick itself wasn't fun, but I am grateful that I had this opportunity to reflect on my life and make the decision to live each day with purpose.
I hope you all stay well,
Davi Jacobs