Girls varsity volleyball bids farewell to a memorable season
The girls varsity volleyball team recently concluded their fall season, finishing in playoffs with an impressive 10-5 record. Let's revisit  the incredible season's highlights, memories and player experiences. 
Tryouts for the team occur around mid-August, where players are evaluated by coaches for skill, experience, athletic ability and potential. Normally anywhere from nine to fourteen players are appointed by coach Gretchen Barber-Strunk to the team.
Coach Gretchen has been the head girls and boys varsity volleyball coach since 2013. "The reason I continue to coach is because of the kids that play for me.  Watching them excel and bond and become a second family makes it worth it for sure," Coach Gretchen said. Her ultimate goal in coaching is to teach and spread love for the sport. She always strives for success and values competitiveness, but believes that guiding and instilling life lessons in her players is her top priority.
All of the team members play club volleyball outside of school. Club season tryouts occur immediately after school volleyball concludes, allowing players to do both. According to freshman Ema Djordjevic, high school volleyball is much more rigorous than club volleyball. "I learned many new skills regarding teamwork and commitment with high school volleyball. There are also more players on high school teams in comparison to my club, so we get to practice with a real game scenario and it's really helpful in gaining that experience," Djordjevic said. " As the right side-hitter and setter, Djordjevic tallied up a remarkable number of 133 total kills this year.
An annual tradition for the team is their event "Dig Pink," which raises money and awareness for breast cancer. The team fundraised in many creative ways including a bake sale at the homecoming football game, organizing a Carmen's Italian Ice fundraiser, collecting donations from the audience at their Dig Pink game, coordinating a Go Fund Me and selling gift cards to friends and family. A total of $875 was raised and donated to the Side Out Foundation, which funds metastatic breast cancer research and treatments. Players tie dyed tee shirts and socks pink and decorated posters, signs and banners for this year's Dig Pink game against Gaithersburg High School.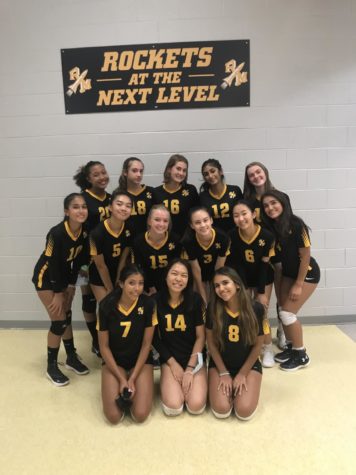 Each player considers the volleyball community to be a family. They have initiated team bonding events such as team dinners at Rio, walking to Town Center to pick up food before practices and stopping by Smoothie King after practice. "It's like a second home to me. Everyone is there for one another, creating a family to spend this season with," senior Iris Postovit said. Another fun custom is their spirit days. The team dresses up for school on every game day. Some examples of themes include Hawaiian, onesie and black out. 
But, the players have encountered struggles throughout the season. "One challenge I faced was injuring my ankle during practice. I had to sit out a few games, but being around my teammates helped me focus on recovery and just bettering my playing overall," junior Cate Christopher said. In addition, the rigorous daily practice schedule has proven to be extremely demanding. "A lot of time management and motivation is needed to balance IB and sports. I have endured more sleepless nights than I have ever imagined. While balancing school and sports has been quite difficult, I would say it has all been worth it," freshman Bella Brennan said.
"
It's like a second home to me. Everyone is there for one another."
— Iris Postovit
A tremendous amount of work and preparation for Senior Night was arranged by the underclassmen. The seniors this year were Camila Sotomayor, Joey Lien, Iris Postovit, Emily Pham and Lauren Campano. The underclassmen designed posters personalized for each senior decorated with pictures, catchphrases, and stickers. The seniors were provided with crowns and sashes for the ceremony just after warm-ups. "I couldn't have asked for a better senior night, my teammates made it one to remember with the posters, decorations and amazing notes to go with it," Postovit said.
The team has experienced numerous triumphs and memories that will last a lifetime. "In such a small amount of time, the team was able to establish unbreakable connections, learn the game and execute it at a high performance level. I'm so proud of how far we made it!" captain Sotomayor said.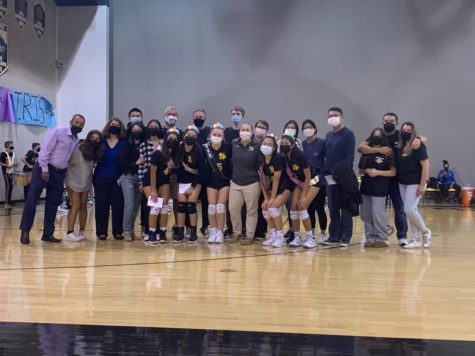 Freshman Corinne Howard enjoyed her first season on the team. "Being new not just to volleyball but to high school,  I didn't know what to expect, but it was ten times better than I ever imagined," Howard said.
The girls love the adrenaline rush during tight sets. "During close games, I am literally on my toes shaking with suspense. Adrenaline crashes over me, making me tremble with excitement," Brennan said.
The 2021 season has certainly been an unforgettable journey for the fourteen team members.  Sotomayor reflected on the remarkable season: "I'm going to miss it all. The mid-practice dance parties, spirit days, car rides, memes and more! I'm going to miss seeing the volleyball girls at practice every single day most of all. They became such a big part of my life in just 3 months. I wouldn't trade my time with them for the world."