Ford's F-150 Lightning redefines the electric car and lights up the future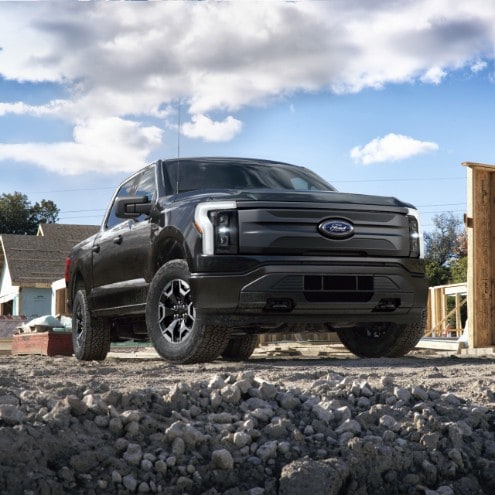 The recently-electrified Ford F-150 Lightning marks a milestone in the modernization of the automobile industry. Ford's decision ultimately reflects the industry's direction, meaning major changes for millions of drivers and enthusiasts worldwide. Brands such as Mercedes-Benz, BMW, Cadillac, Volvo and others are pushing electrification across their lineups as the pros of electric vehicles become harder to resist.
As of 2020, The Ford Motor Company is the second-largest vehicle manufacturer in the U.S. Over the years, Ford has become a household name, with many popular models including the F-series, Focus, Escape, and Explorer. Ford also operates a widely-known performance sub-brand named Mustang, which recently released a new all-electric model. According to Goodcarbadcar, Ford has been consistently selling around 750,000 F-series trucks each year over the last decade.
Ford holds the title of being the first to execute an all-electric pickup truck. The base model Lightning has an EPA-estimated 230 miles of range that, when compared to a Tesla Model Y's range of 303-326 miles or a Tesla Model X's range of 340-360 miles, seems rather underwhelming. However, it can be equipped with an optional long-range battery that allows up to 300 miles on a single charge and closes the range gap between the Lightning and its competitors. Ford also claims that, when the battery is fully charged, the F-150 Lightning can power a house for up to three days in case of an outage. An impressive feat and a useful feature in various emergencies.
The F-150 Lightning resembles a bold move on Ford's part. Most people associate electric cars with luxury, impressive performance and first-class technology. Ford has taken the most important aspects from the worlds of pickup trucks and electric cars to form a vehicle that is comfortable, high tech and utilitarian. Since they do not produce exhaust fumes nor require gasoline or oil, electric vehicles pose fewer drawbacks for the environment. 
According to Carbuzz, the F-150 Lightning has gathered over 150,000 reservations to date, meaning that rival companies such as General Motors, Jeep, Dodge, Ram and Chevrolet will likely follow suit. "Overall, it's just gonna be really cool to see an all-electric truck and I'm really excited to see how it's gonna develop in the future and what's gonna happen, how they're going to advanced technologies, and overall how the market's going to change," freshman Keefer Morsli said.
The Lightning signifies Ford's commitment towards reducing mass gasoline consumption. "Ford will definitely follow through with making more electrical vehicles like this in the future because of, first of all, its financial success and also toward the aim of more environmentally friendly goals," sophomore Aidan Stanton-Brand said. The poor gas mileage of most trucks might have been a factor in Ford's decision to go electric with the F-150. 
Curtailing the harmful effects of exhaust fumes on the atmosphere is a major benefit as, according to the EPA, a typical vehicle's carbon dioxide emissions average 4.6 metric tons annually. Around 270-280 million vehicles have been consistently in operation in the U.S. since 2017, according to Statista. There is room for an enormous environmental impact if the automotive industry were to continue implementing electric motors in place of gasoline engines.
The F-150 Lightning will ultimately be a viable option for many previous F-series customers. Ford's decision only means positives for many as environmental and consumer benefits continue to outnumber the arguments against an electric pickup truck. The decision also sheds light on the versatility of the electric motor and leads the world into an era where its applications are endless. The Ford F-150 Lightning will drive us into an electrified future.